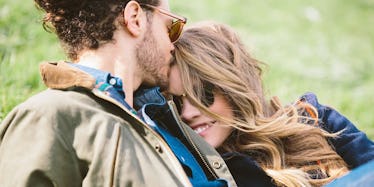 15 Reasons Why A Girl's Ass Will Always Be Thankful For Leggings
Stocksy
Leggings have come a long way in this world. Formerly the work-out-wear chic style of the 80s, we proudly reintegrated our spandex friends into our wardrobes in the early 00s.
There were the early classics: leggings under mini skirts for the cool girls, leggings with tunic tops paired with dreaded waist belts that cinched your body into one squished rectangle and, the newly out-of-favor, leggings tucked into Uggs.
We were just experimenting then, deciphering how to best incorporate the comfy, casual-cool attire into our clothing repertoire.
As talk of women's fuller bodies grew along with famous waistlines, it became empowering -- en vogue -- to show off your figure with leggings.
Soon they were no longer Snooki's staple, but rather Balmain's signature leather pair, Serena van der Woodsen's perfect complement to over-the-knee boots and high fashion's response to the frugal shopping sprees of The Recession.
Leggings were embellished, patterned, printed, sequined and passable at formal affairs.
The style icon influenced many consumer fashion trends.
A celebration of both the bottom half and the girl who works hard to maintain it, leggings are now symbolic of fitness and ease. Women of all shapes and sizes proudly prance the streets in their choice of stretch.
Even Lululemon's see-through scandal didn't deter us from donning the ass-loving fabric.
Booties everywhere can rejoice, as the leggings-aren't-pants debate quiets down (no one even wears pants anymore) and men's are up for grabs as well. In pop culture too, Nicki Minaj's colossal booty-eating lycra literally paved the way for ours to follow.
Because, let's face it: butts and leggings go together like peels on an orange, like Kim K on Kanye on a motorcycle in the "Bound 2" music video.
They support each other, each makes the other look good. Thousands of years from now, elderly scholars will sit in the faded glow of the windowpane and contemplate, "Which came first, the legging or the badonk?"
Dear Leggings,
You are the best thing to happen to us since the squat.
Your best friend, Booty.
Here are the 15 reasons why every girl's ass loves leggings.
1. You can get as fat as you want, and they'll only look better.
And thanks to leggings' natural give, you won't even need to go up a size!
2. If you have a wedgie, you can pick it easily.
There aren't any pockets or heavy fabric to dig through. Hell, you could probably shake it out, and look damn bootylicious doing it.
3. There's zero chafing.
This is a rub-free zone.
4. Over-the-pants foreplay is made possible.
Hot dayum! I need to wear leggings more often.
5. No distraction from the main attraction.
No cell phones acting as a barrier to entry. There aren't any keys or stray bills scrunching into our pockets. Those grounds are all yours to explore.
6. Because booties eat them for lunch.
Exhibit A: Jen Selter. That is all.
7. When you sit down, the rest of your ass can sit down too.
It's not confined to the restricted space your jeans provide. The sides can spread out, and your thighs can breathe comfortably without having to worry about ripping the fabric.
8. If you randomly need to start running because a volcano is exploding, these pants are conducive for that.
You can do splits, or spread out, or just be flexible in general. If you're in a rush, you can break out into a sprint. Go, buns, go!
9. They'll match your top no matter what, but the bottom is always the star.
No words necessary. You get it.
10. Leggings don't leave your bum with line marks.
NSFW: Bambi porn.
11. They're a nice bed for your butt to sleep in.
Like the Disney tale, "Sleeping Booty."
12. Sometimes they are see-through.
If we're lucky.
13. Technically, you don't have to wear pants.
YAY! Free falling at last. Pants are so 2009.
14. Butts look really nice when leggings suck them in.
Compression leggings are a secret buttox-lifting weapon. You are welcome, everybody.
15. Booties look ass-tastic in leggings!
Let's celebrate life.
Top Photo Courtesy: Instagram