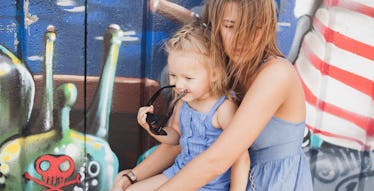 #BigBootyProblems: The Things That Only Girls With Big Butts Will Understand
Stocksy
We curvy girls have many reasons to celebrate being bootylicious, including recent research that suggests women with wide hips and bigger backsides are more intelligent and more resistant to chronic illness. We should all be proud of packing heat in our asses as well as in our hearts and brains.
But we can attribute much more than intellect or health to our lovely lady lumps – what about the fact that they make us great cuddlers and exceptional twerkers?
To the ladies who have been embracing the blessed gift that Mother Nature gave them all their lives, this one is for you.
***Listen to "Dance A$$" by Big Sean when you read this list.
Jeans That Fit Your Butt But Not Your Waist (Or Vice Versa)
It's either a size too big or a size too small. Looks like we're going with the classic Apple Bottom jeans!
Anxiety Squeezing Past People In The Movies Or On The Train
Ex-squeeeze me, please? Booty coming through!
Getting Excited When Sir Mix-A-Lot's "Baby Got Back" Comes On
Yeah, you show them who he's talking about!
Crediting Your Mom For Your Size
Like mother, like daughter: you both know how to work it out.
The "Bend and Snap" Is An Everyday Occurrence
It's called you reaching down to pick up your dropped pencil.
You're Tired Of Your Friends Comparing You To J.Lo
Self-explanatory.
When You Sit, You Gain An Inch On Each Side
It happens to the best of us.
Booty Shorts Are Thongs
HAWT.
Guys Devote All The Attention To Your ASSets
Standard protocol. Nothing you haven't seen before.
Using Your Butt To Close The Door When Your Hands Are Occupied
Now that's what we call multi-tasking!
Sitting on the Ground Isn't a Problem
That's right, you're straight chilling.
Needing Three Feet on All Sides Of You To Dance
You know what we're talking about, doing the helicopter with your hands and getting low.
Squats And Lunges Are Your Best Friends
FJCDN
Getting it right, getting it tight, while listening to Kanye's "New Workout Plan."
You Always Win The Dance-Off
You go, girl!