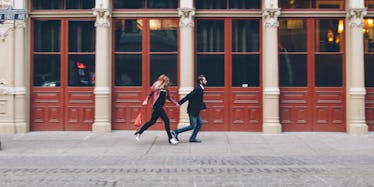 12 Reasons Granny Panties Are Making A Comeback, And Girls Love It
Stocksy
There was granny hair. There was granny attitude (see: staying in on a Friday). Now, it's all about the granny panties.
The NYTimes recently found that in the past year, sales of briefs, boy shorts and high-waisted underwear have grown 17 percent, while thong sales have decreased 7 percent. (Yup, they're onto us again.)
Besides the fact that full-coverage underwear feels like a safety net for your ass, it also is an extremely flattering cut, regardless of size.
While thongs separate your ass cheeks and make them look like clay that's about to be sliced, granny panties keep it all in place together, like a glorious full moon.
An expert butt checker-outter (my boyfriend, sigh) agrees:
Full panties are hotter. They make butts look better. Like, less suffocated.
Indeed, there's something very visually pleasing when you leave the ass crack out of the equation.
As the booty has now become our favorite body part, it is only fitting we start praising its accessories.
Here are the 12 reasons girls love granny panties.
1. They feel nice on your butt
What's the point of buying high-quality panties if they're just going straight up your ass, probably next to some poop remnants?
No matter what the fabric -- cotton, satin, stretch -- your butt gets to cozy up next to, it's infinitely better than harsh and rough denim. Full undies embrace your tush and make it feel safe, like a swaddled baby or a warm hug.
2. They're great for when you have your period
Period panties are a real thing, and they usually come in the form of destroyed, old granny panties that you no longer care about.
Full-coverage briefs keep that pad from slipping (yeah, we're going there) and promises to catch any "oopsie" accidents that you're apparently still not too old to have.
3. You can smuggle things easily
You can fit anything from loose change to bottles of hot sauce in granny panties. There are even unsubstantiated claims that expert kleptomaniac, Winona Ryder, shoved fur coats in her pair when she was stealing from Saks.
Just when you thought you were out of pockets, your granny panties are there to store your ID and credit card. It's the other, other hot pocket.
4. There's more room for fun prints
The increase in surface area allows for more space for cool designs and patterns. You can say something with lettering on your butt, use it as advertising space or simply know what day of the week it is. Briefs open up a whole world of self-asspression (see what we did there?).
5. Picking a wedgie is more satisfying
You don't have to dig up your ass to retrieve it like it's the remote control getting stuck between two sofa cushions.
There's more fabric to climb in there, meaning there's a bigger reward when you get it out. It's kind of like taking a hair out of your eyeball. Granny panties can give you all kinds of pleasure.
6. You can share them with your mom
You've always admired Mom's vintage clothes -- why should her undergarments be any different? Now you can share more than just retro dresses and earrings. She's your BFF, which means it's totally cool to steal from her on laundry day.
7. They suck in your FUPA
A sturdy high-waisted pair does more than transport you back to a time when women weren't allowed to work, it also straps in your lady lumps and love handles.
High-waisted briefs are like a seatbelt for your FUPA area, or the support system you never had in high school. They keep it together when it feels like everything is going its own way.
8. Side butt is sexy
You know what we're talking about -- the under part of the ass that still manages to peak out on either side of your granny panties.
It's the underside-butt and it's basically what launched J.Lo from the block to the Grammys. Nothing screams, "I did my squats yesterday" like a freshly perked underside-butt not covered by your granny panties.
9. They conceal your ass crack
Ass cracks are good for two things, both of which are disgusting: sucking farts back up and collecting sweat.
Why do you want that reminder backing up into your face? Granny panties hide your ass crack, leaving what's in between up to the imagination. Basically, they keep the mystery alive.
10. They remind you of your youth
When you used to wear Limited Too "Girl Power" sparkly panties. When you still believed in cooties.
When you weren't concerned about what was sexy and what was to be stored for that time of the month. Despite their link to grandmas, full coverage panties are actually pretty youthful.
11. Calvin Klein models wear them
Have you seen the recent CK ads? We'll take it.
12. They are sexy to sleep in
Full-covered panties seamlessly transfer from day to night. They're like the versatile purse or kitten heel of undergarments. You can spend the whole day in them and you won't feel like you still have yesterday's bathroom break on you.
They double as pajama bottoms, which is double the reason to enjoy them -- you don't have to wear pants!