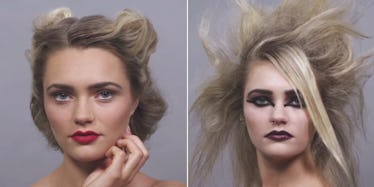 '100 Years Of Beauty' Shows How History Greatly Shaped German Looks (Video)
Cut Video delivered the 10th episode of its "100 Years of Beauty" series, turning to Germany for this installment's style roundup.
Model Brooke Williams not only displays a century's worth of hairstyles, but for her looks between the 1950s and 1980s, the video treats viewers to a split screen -- highlighting the distinctions between East and West Germany's personal styles.
My favorite contrast is for the 80s look, in particular, because it appeared to be a time of serious beauty discord with West Germany decked out in full sweatband glory and East Germany rocking spiked hair and gothic face paint.
The ride through 15 looks of Germany's past and present takes under two minutes, but it provides enough style inspiration to last 10 decades. Literally.
Citations: 100 Years of Beauty - Episode 10: Germany (Brooke) (Cut Video)