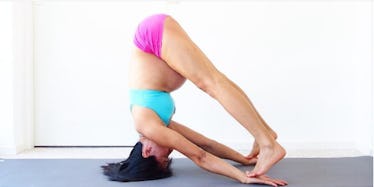 This Pregnant Yogi Is Blowing Everyone's Minds With Her Insane Moves
Yoga is difficult to learn in general, but imagine doing it with the extra weight of a baby.
Saranlux "Wah" Wunjina is a private yoga teacher based in Thailand. She's three weeks away from having her first baby, and she's still crushing it on the mat -- so much so that her Instagram videos of her yoga practice have gone viral.
The 37-year-old has been practicing yoga for three years. She only paused her practice for the first 12 weeks of pregnancy but after that period, she didn't let anything hold her back from practicing normally.
Wah swears by prenatal yoga, despite some negative comments from people online and her own mother, who think her practice may be harmful to the baby.
But here's what she says in response:
I can't say what is right or wrong, but I know my body and myself. It's my personal practice.
People are always so quick to judge. It seems to be working for Wah, though, and she hopes her practice will help her body bounce back quickly after childbirth.
Seriously, this kid isn't even born yet and he or she is probably going to be more Insta-famous (and flexible) than all of us.
Here's the video that first caught people's attention.
I can't imagine how difficult this would be with (and without) a pregnant belly.
It's refreshing to see a totally different type of pregnancy photos.
Her yoga practice has helped her both physically and mentally through the pregnancy.
And her commitment to her practice will probably pay off after childbirth.
We can't wait to see Wah's new baby featured in her Instagram videos and photos.