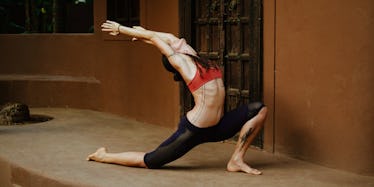 I Took A Yoga For Better Sex Class, And My Head Is Still Spinning
On January 28, I got an email asking if I wanted to take a "Yoga 4 Better Sex" class the day before Valentine's Day.
How could I not open it? I like yoga and I like sex. The class description did not disappoint. It read:
This 60-minute yoga class will leave you feeling luscious and limber. Bring your partner and dive deep into this sensual and spiritual journey of yoga. Focusing on hip opening postures that develop the root, sacral and heart chakras, this class help you and your partner awaken your sexuality, confidence, openness and trust.
Sure, it sounded kind of awkward. But I was intrigued. Did I want to feel more luscious and limber? Of course, I did.
An afternoon doing any kind of yoga isn't exactly my boyfriend's thing, so I decided to spare him and leave him at home. Instead, I brought a few easy-going co-workers with a good sense of humor along. At the very least, we would all have a good time together.
The event took place on a freezing day (I'm talking temperatures in the single digits and crazy high winds) at 305 Fitness in New York, a fitness studio that generally hosts dance cardio workouts.
The studio's walls are covered in neon, and the space itself has a club-like, sexy vibe going on.
This is us, posing in front of one of 305's many unusual (and extremely fun) walls.
Wanting to get the most out of the experience, I parked myself in the front row. If I was going to do this, I was going to do it right.
I sat upright and prepared for what was sure to be an interesting afternoon.
What I quickly realized was most people were not there with their friends. They were there with their boyfriends and girlfriends.
That's when the fun really began.
There was a lot of touching.
After a half hour of good old-fashioned yoga -- downward dogs, forward folds, pigeon poses and all -- we got to the good stuff. We grabbed our partners and were instructed to touch each other.
Not like that! Get your mind out of the gutter.
The touching was pretty PG-13. There was a lot of hand-holding, arm-stroking and tickling. I'm not sure if I felt more luscious stretching my hamstrings with my co-worker, but I definitely felt more limber.
One lesson I learned early on in Yoga 4 Better Sex: Having someone help you stretch is a lot more effective than stretching on your own.
The music was good, and once we got over the initial awkwardness of holding hands and stretching each other, my co-workers and I started having a good time. The tunes were good, the company was awesome and I was feeling extra stretchy.
But then...
Some crazy stuff happened.
To be totally honest, I thought most of the people in my Yoga 4 Better Sex class were in it for the pointers, maybe to learn something they could try in the bedroom on Valentine's Day.
But as it turned out, a lot of people were already in the mood. To my right, a woman was very sensually massaging her partner, and he loved it.
How do I know? Let's just say he was wearing some very thin shorts, and I saw a lot. A quick scan of the room led me to realize this guy was not alone in his excitement.
To be clear, I'm all about guys getting super into a yoga class, even if they're only doing it to improve their sex lives.
But it was a little difficult to be fully in the moment after that. Can you blame me?
Now, for what you're really wondering: Did this sensual and spiritual yoga journey really improve my sex life?
My hips were more open at the end of the day, I was a little more stretchy than usual... but not really. I'm already pretty in tune with my senses and what I like, but I can see how it would be beneficial for couples who want to learn to communicate in new and better ways.
I'd do it again, though. It was a damn good time.