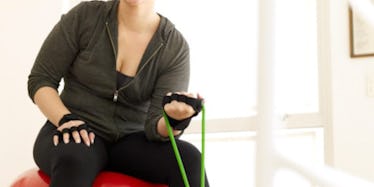 6 Products Under $20 That Will Make All Your Home Workouts A Total Breeze
Getty Images/Bambu Productions
I have a love-hate relationship with at-home workouts. I love that I can profusely sweat like a dying walrus in the comfort of my own room, but it's annoying AF when the workout calls for exercise equipment that I just can't afford. Fortunately, there are lots of kickass fitness products under $20 that let you maintain the #BootyGains without forcing you to break the bank.
These products are especially great if you happen to find yourself moving into a dorm room sometime in the next couple of weeks. Even if your college campus has a student gym, chances are, it'll be ridiculously overcrowded most of the time, and you'll hardly get a chance to squeeze in a good workout. But with these products, that's one less thing to stress about as you make your way back to school this fall.
From an incredibly versatile stability ball to a set of glute-sculpting ankle weights, these bad boys will make you question why you ever decided to pay for a gym membership in the first place.
Say goodbye to those overpriced, boutique fitness classes your friends keep telling you to join, and say hello instead to these six products for your at-home workouts that are just as cheap as they are effective.
1. Stability Ball Swag
Anti Burst Stability Ball With Foot Pump, $16, Amazon
I see you, and I know how many times you've walked by the stability ball at the gym without giving it a second thought.
However, investing in this seemingly simple sphere will open up a whole new world of total-body toning moves.
From push-ups to core challenges, the stability ball is your new BFF when it comes to your home workout.
2. Namaslay This Core Circuit
The Balance Collection Printed Yoga Mat, $13, Nordstrom Rack
Nordstrom flawlessly mixes style with affordability with this adorable printed mat.
Roll it out at home and get ready to kill that core circuit.
3. Irresistible Resistance Bands
Phantom Fit Resistance Loop Bands, $9, Amazon
Resistance bands strengthen and stretch your arms, back, shoulders, legs, and butt -- all at once, if you're ambitious about it.
This set comes with four different levels of resistance, so you can pick and choose as you like depending on the kind of challenge you're looking for. Regardless of which band you choose, these bad boys are so versatile, you can use them as part of an intense HIIT circuit, or even while you cool down and stretch at the end of your sweat sesh.
4. Core-Conditioning Ab Wheel
Valeo Ab Roller Wheel, $18, Amazon
TBH, this looks like a tool I would find in my garage and have no clue what it was. But believe me when I say this little guy really does it all.
The ab roller wheel works every major upper body muscle group as you move it back and forth across the floor.
Oh, and it comes with an instructional fitness guide if you're not sure how to get started, or you're in need of a little inspiration on an off day.
5. Booty-Burning Ankle Weights
10 lb Pair Adjustable Ankle Weights, $8, Walmart
Ankle weights boost the intensity of just about any booty workout you may have planned. Honestly, the first time I added these to my donkey kicks, I was out of breath for the next hour.
Benefits of being at home, amirite? #NoJudgmentZone.
6. Cardio-Centered Jump Rope
LifeFitness Premium Vinyl Jump Rope, $17, Power Systems
A jump rope is a great product to have on hand for home workouts, especially if running and other typical cardio exercises just aren't really your thing. Trust me, there a ton of different jump rope workouts you can do, so you'll never get bored of this bad boy.