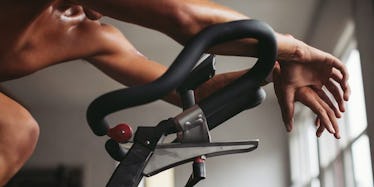 This Is The Workout You Should Do, Depending On How Busy You Are
Whether you're a young professional, a swamped college student or a busy mom, it's hard to find time to work out.
With so little time on our hands, it's hard to motivate ourselves to get outside and run or head to the gym.
To help you combat the temptation to forgo working out altogether, I've come up with the best workouts you need to do based on your schedule:
1. Only one day a week: Orangetheory Fitness
If you only have one day a week to spare for working out, Orangetheory Fitness is the place for you.
In just one hour, you will pound out an intense workout that will escalate your heart rate and burn tons of calories.
Orangetheory incorporates cardio and weight training in its classes, all at a fast-moving pace.
Rather than wandering aimlessly around a gym wondering which machine to use or guessing how long you should stay on that rowing machine, at Orangetheory, you will complete your workout with a group of people guided by a fitness coach.
And for those of you who enjoy a little friendly competition, you can see exactly how fast your heart is pumping and how many calories you're burning on the big overhead screens.
You can see who in your group has burned the most calories and kept their heart rate elevated for the longest amount of time.
This keeps you motivated to go hard harder and push yourself past your limits.
When you're only working out one day a week, you need a workout that will blast as many calories as possible and work out your whole body.
If this is you, give Orangetheory a try. Your first workout is always free.
2. About 15 minutes a day: boxing
If you have only 15 to 20 minutes on your hands and want to know how you can utilize that short amount of time to the best of your abilities, throw on those gloves and head to the punching bag.
Boxing doesn't just look fierce; it also delivers.
Boxing burns around 600 calories per hour, so your time will most definitely not be wasted.
Supermodel Gigi Hadid spends time in the ring to keep fit, and she says it helps her feel strong. So get in that ring and punch it out!
3. Half an hour a day: cycling
Only have a half hour to burn before heading to work? Head to the gym and hop on a stationary bike.
But don't just do an easy cycle. Set the settings to a hill workout to best utilize your time and burn the greatest amount of calories as possible.
Cycling will not only better your cardiovascular health, but it will also build up those leg muscles.
Have work to finish up? You can multitask on a bike! Read that last-minute proposal or finish up those notes for your upcoming meeting.
Just be sure to keep your legs pumping!
And while cycling is taxing, you just might get by with a quick rinse off before heading to work, without having to wash your hair and start the "getting ready" process all over from scratch.
Busy professionals, cycling is for you!
4. No time at all: workout videos
Working from home and can't get away? Too busy chasing your toddler around to carve out time to head to the gym?
Or maybe, you just don't have the energy to lace up those sneaks after a long workday?
Not to worry, Beachbody On Demand has you covered.
Just imagine Netflix, but with workouts instead of shows. Work out right in your living room with a personal trainer to guide your moves.
You can do cardio, strength training, yoga or whatever you feel like doing. It offers both short and long videos, so you can choose which one best fits your daily schedule.
If you're not interested in purchasing a Beachbody subscription, work out for free utilizing workout videos on YouTube or apps like Sworkit.
The possibilities are endless.
No matter how busy your schedule is, it's important to stay active.
So, no more excuses. Get out there and start burning those calories!