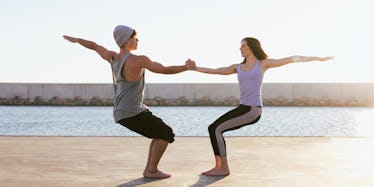 Science Says Some Women Have This One Advantage Over Men When It Comes To Sports
Hormones can be a big bummer for women, particularly when it comes to that time of the month.
You've definitely cursed those hormones on more than one occasion, probably while you aggressively attempted to open a fresh box of tampons.
But recent research may give you a reason to love your hormones, especially if you're an athlete.
According to a new study from The British Journal of Sports Medicine (BJSM), high levels of testosterone may be providing women with an advantage when it comes to athletic competition.
The condition is called hyperandrogenism, and it's basically when someone has excess levels of male hormones circulating in the blood.
No artificial steroids involved. You're just #BornWithIt.
To put things in perspective, at the International Association of Athletics Federations (IAAF) World Championships in 2011 and 2013, women in the top third of measurements for free testosterone in their blood showed significantly better performance in various events when compared to women with lower levels of testosterone.
However, no similar pattern was observed in men with different testosterone levels participating in the same events.
Bottom line: Extra androgens in men just chill there -- in women, they translate into straight-up beast mode.
The findings definitely raise some important questions about how men and women should compete when it comes to sports.
Based solely on observations, hyperandrogenism should indeed be taken into consideration when women are competing in the female category for their sport.
The BJSM also says this boost in testosterone levels provides excess red-cell production for the individual, which enhances their visuospatial abilities (aka how you perceive distances between objects), along with the availability of oxygen in their muscle tissues.
These factors are particularly critical for anyone practicing acrobatic sports, throwing events, and well, pretty much anything that centers around good coordination skills.
For now, according to EurekAlert! Science News, the Court of Arbitration for Sports ruled that the IAAF regulations -- which state that women with hyperandrogenism need treatments to lower their hormone levels before competing -- should be halted until more research is done in this area.
Still, in the meantime, isn't it just a little badass that some women have this advantage?
In a society where people still fight every day for gender equality, I can't deny how awesome it is to see that a handful of female athletes out there are able to compete at the same fierce levels as men.
#TBT to Michaela Hutchison becoming the first girl to win a state title against boys in high school wrestling, or when Kelly Kulick was the first woman to win a national tournament on the Professional Bowlers Association Tour (she crushed 62 of the country's top male bowlers to win that title).
Watch out, world, because clearly there are plenty of these warrior women out there just waiting to kick a man's ass at any sport.