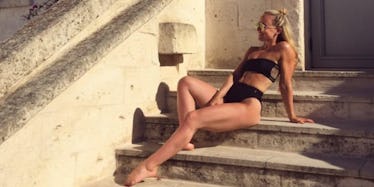 This Wellness Blogger Is Using Her Platform To Spread Awareness About PCOS
Twitter
While the human body is capable of incredible things, what's truly heartbreaking about it is that you can regularly practice the fundamentals of a healthy lifestyle, yet some illnesses will still be out of your control. Earlier this week, fitness and wellness blogger Alice Liveing announced she suffers from polycystic ovarian syndrome (PCOS). The clean-eating advocate shared details of her January diagnosis as a way to spread awareness for the hormonal disorder.
According to the official PCOS Awareness Association, symptoms of PCOS can show up as early as right after puberty, or you can develop the condition later in life. Warning signs include irregular periods, infertility, pelvic pain, weight gain, and/or ovarian cysts.
Unfortunately there aren't any definitive tests that can diagnose PCOS. Patients usually undergo a series of tests --  such as an analysis of the family's medical history, blood sampling, and a sonogram -- before officially being diagnosed.
Liveing experienced inconsistent menstrual cycles and severe cramping from the young age of 14, but was not officially diagnosed until January of this year.
She wrote in a recent Instagram post,
In January I had the worst abdominal cramps I've ever suffered, to the point that at 1 a.m. I took myself to A&E. Long story short and a trip to the gynae, it transpired that I had PCOS or polycystic ovarian syndrome.
Roughly 10 million women worldwide have, and are suffering from, PCOS.
Despite this fact, however, there is little conversation surrounding the hormonal disorder.
The response from Liveing's followers after her announcement has been overwhelmingly positive, as women continue to thank the wellness blogger for bringing attention to the condition.
To continue the conversation, Liveing invited followers to a Facebook live feed, where she and Dr. Rupy Aujla sat down to discuss common symptoms of the disease, and what those suffering can do to cope.
She began the live feed by stating,
I want to speak about polycystic ovarian syndrome. This is something I was diagnosed with in January, and it's something I feel really passionate about speaking about to spread the word. Talking about different ways to be able to manage it, speaking about how I personally manage it, and getting the best advice from someone I truly believe has the best advice to give.
While there is currently no cure for PCOS, Dr. Aujla offered advice on how to treat the hormonal condition.
Your physician will likely prescribe medication to maintain the condition, but there are also a ton of healthy habits you can implement into your lifestyle to keep symptoms in check.
Dr. Aujla advised PCOS patients to stick to a Mediterranean diet, get enough sleep, reduce stress/anxiety as much as possible, and exercise regularly.
He added,
Things like HIIT training, and weight training, endurance -- all of these things have benefits. Women should entertain weight training. What I would suggest is you vary your activities.
The equation to a healthy, fulfilling lifestyle is a simple one: listen to your body, nourish it well, keep it moving, and overall, live life to the absolute fullest.
Remember that PCOS is a condition like any other illness, physical or mental. It is part of you, but it does not define you.
If you think you may be suffering from PCOS, do not hesitate to speak with your physician. Liveing has started an important conversation -- it is now up to us to continue it.