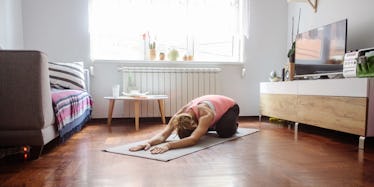 5 Places To Sneak In Workouts Over The Holidays When You Can't Go To The Gym
Stocksy
The holidays are without a doubt the busiest time of the year, and sometimes we let our routine priorities slip.
Things like paying off credit card debt and exercising can be lost in the hustle and bustle of the holiday season.
Keeping up with your exercise plan can be especially difficult if you travel away from your local gym for the holidays or simply don't have time to hit the gym.
Instead of letting this stop you from working out, try modifying your workout so you can still get the exercise you need without the hassle of going to the gym.
Here are some ideas to help you get started with your holiday non-gym workouts!
1. Local Park or Playground
If you find yourself on "watch the kids" duty over the holidays, why not bundle them up and take them to the playground? To get in a workout, instead of sitting and watching them, try playing right along with them!
From the swings to a simple bench, playgrounds and parks offer all kinds of equipment that you can creatively use to get your exercise on!
Playground equipment is all easily available to you if you live near a park, plus it's free and fun! This type of workout will take you back to your childhood days.
At this time of year, the park will probably be pretty empty so you may have free rein!
Before using any of the playground equipment, make sure it isn't wet or slippery and practice gripping the equipment before you begin. And of course, make sure you're keeping an eye on the kiddos if you brought them along!
2. The Car
Yes, the car! If you'll be spending a lot of time in the car throughout the holiday season, learn and practice some car exercises.
With a simple tennis ball, you can do tons of exercises that will help strengthen and tone your shoulders, forearms, back, core and legs. If you don't have a tennis ball, you can even modify these exercises to get the same results.
These exercises shouldn't be done while actually driving, so they are best done if you are the passenger or if you're stuck in your car waiting for someone.
Keep a tennis ball in your glove compartment or trunk for easy access so that next time you're bored in the car, you can be productive and squeeze in a workout.
3. In Front of the TV
Watching football with family? Enjoying a classic Christmas movie? You can still exercise!
Exercising in front of the TV works well because you'll probably be so distracted by the show that you won't even notice you're working out.
If there is enough space in the room with the TV, you can set up a yoga mat, weights and any other equipment you want to use.
If there isn't enough space, you can do a workout using just a couch and a wall. You might even get your family up and moving with you!
4. Your Garage
If you have space in your garage, you can easily transform it into the perfect exercise spot. Simply lay out a yoga mat to create a safe area and use the space to do stretching and weight exercises.
If your garage is too messy and in need of some organization, take some time to properly clear the area of clutter to give yourself a safe space to work out in!
This will not only give you a space to exercise, but will also help you de-clutter and organize this spot. Who knows, getting your "sweat on" in the garage away from the hustle and bustle may be the start of a new holiday tradition!
5. The Airport
Traveling to visit friends and family this season? Spend the otherwise unproductive time in the airport exercising!
There are tons of exercises you can do in the airport that will help pass the time and keep you in shape, such as walking the stairs with your suitcase and using your suitcase to do weight exercises.
Make sure you know how heavy your suitcase is before you perform these exercises and don't lift more than you are able.
Also, airports can get very crowded so make sure you are aware of your surroundings and staying safe while performing these exercises.
As you shop, travel and enjoy this holiday season, stay in shape by exercising in these unexpected places so that you won't feel bad eating that extra cookie!