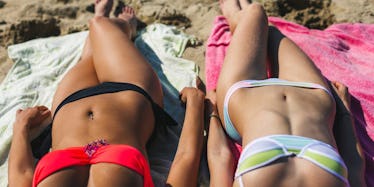 Science Says The Sunscreen You Use May Not Work, And We're All Basically Screwed
For today's dose of earth-shattering news, a new Consumer Reports study revealed, the sunscreen you've been using religiously all these years may be doing nothing at all.
I know. Let's all take a deep breath before we dive into this one.
Alright, here it goes.
After testing 70 lotions, sprays and sticks that are all labeled as having an SPF of 30 or higher, researchers discovered that an alarming 43 percent of products do not contain what they claim to. This is a sad day not just for consumers worried about getting wrinkles from sun exposure, but also for the millions predisposed to skin cancer who need reliable protection.
So which products are to blame for rocking our belief in human decency? According to the report, CVS Kids Sun Lotion SPF 50 and Banana Boat Kids Tear-Free, Sting-Free Lotion SPF 50 do almost nothing when it comes to protecting your kids' skin -- or your skin for that matter.
On the bright side, La Roche-Posay Anthelios Melt-In Sunscreen Milk SPF 60 and Trader Joe's Nourish Spray Sunscreen SPF 50 both offer the UVB and UVA protection their labels claim.
And, as always, you can prevent sunburns by avoiding the sun altogether. Just make sure to load up on vitamin D, as deficiencies can lead to other nasty problems I won't even get into right now for the sake of your sanity.
Citations: This New Study Says Your Sunscreen Might Not Be Protecting You At All (Teen Vogue)