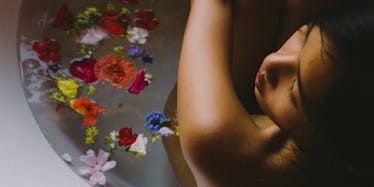 5 Relaxing Bath Products Your Skin Will Thank You For After A Bad Day
After an awful, long-ass day, we all reach that point when we have to surrender to whatever evil shit the universe has thrown our way.
The number one way to restart is to take an adult bath.
And I don't mean like an XXX version bath. I just say "adult bath" because it's very odd for adults to sit in a tub. It never looks like what you've seen in the movies.
When I get in the bath, I never feel like a long-legged beauty surrounded by a halo of bubbles that perfectly covers my breasts.
I look more like a melting claymation figure with her boobs in her armpits.
But, I digress.
Because baths are so amazing, I've done some tough research to find the absolute best products out there to help you get rejuvenated, and they are luscious and beautiful, just like you.
The name alone is intoxicating, but Farmaesthetics is my new higher power because it created a bath oil that hydrates my skin, yet doesn't make me feel like I'm sliding all over the place for the rest of the day (or night).
Farmaesthetics Midnight Honey Bath + Beauty Oil, $40, Nordstrom 
What I love about this oil is the smell isn't too overwhelming. It's subtle and sweet, and it totally eliminates one step from my skincare routine because I can put it on while I'm still in the shower or bath.
So, if you're constantly forgetting to moisturize after your cleansing routine, I would recommend this product with the faith of every Beyoncé lover in the country.
It seriously works, and after about a week of using it, my skin felt like it had been completely restored to its plumped, infantile glory.
This peppermint-infused bath bomb is exactly what the doctor ordered.
I used it last night, and not only did it present ample opportunities for an Instagram party in the tub, but it also smelled absolutely amazing.
The scent even lingered in my bathroom through the morning.
I kid you not: my skin felt smoother than velvet. But the only thing is, I didn't exactly feel clean.
One of the fun surprises of this product is the fact that it literally fills your tub with glitter water, and to be honest, I wasn't thrilled about it.
I mean, there was enough glitter in there to last a full year.
But mostly, I was concerned about getting glitter in my pussy and possibly getting pregnant with a baby unicorn.
I'm not a scientist, but I'm pretty sure that's how it's done.
Lush Intergalactic Bath Bomb, $8, Lush 
This is an extra fun, immune-boosting "spa in a bottle," according to Farmaesthetics website.
And while I loved it at first (just for the witchy-looking glass bottle), I found that bathing in it, was even better.
Farmaesthetics Vapor Bath Elixir, $42, Nordstrom 
Basically, throw a few teaspoons of this green stuff in the tub before settling in for a long soak when your muscles ache and you feel a little sickness coming on.
You'll get a deep herbal soak going that will cleanse your system, deodorize the body and relieve those achy muscles.
You can also do a personal steam bath facial by filling your sink with boiling water and infusing it with the vapor elixir.
Just drop in a hot towel, and then sit in the bath with that towel covering your face to open up and unclog your pores before doing your regular skin care routine.
Fig + Moss Calming Bath Tea, $10, Tilly's 
Like the Vapor Bath Elixir, Fig + Moss's bath tea is perfect for relaxing sore and tired muscles and reducing inflammation.
With lavender, chamomile, calendula and rose petals, this calming blend will give you all the fragrance of a bath bomb without the clean-up.
Just fill your tub with warm, soothing water, drop in this oversized tea bag and get ready to release all your tension from the day.
Vichy Idealia Radiance Serum, $39, Dermstore; Vichy 3-pack Aqualia Thermal Lip Balm, $9, Amazon 
Obviously, my Instagram account is of a slightly darker tone than is appropriate here, but let me just say that if you want to give your whole face a boost after cleansing, this combo of Vichy products will do the trick.
First of all, we are now in the midst of transitioning from winter to spring, which can cause your skin tom freak out, especially when you're bathing with super hot water and toning down your moisturizing routine.
Vichy makes a moisturizer that is great for dry-to-normal skin that combats the tired look you have at the beginning or end of the day.
And luckily, this can be used morning or night.
The cream and lip balm are ultra-light, absorb well and stay on for hours.
Another plus? They can be used underneath your makeup to protect your skin from dry weather.
By pairing all these calming products with a long soak in the tub, there's no way you won't feel refreshed and beautiful.
So, end your day right, and go to bed totally chilled out.