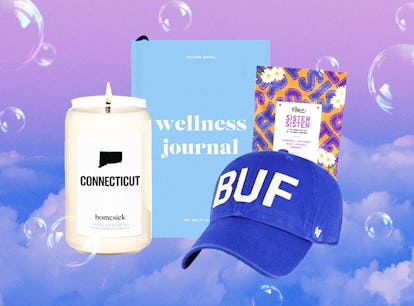 20 Products To Help With Homesickness
Elite Daily; Shutterstock
We may receive a portion of sales if you purchase a product through a link in this article.
Home isn't always the place you currently live; sometimes, it's wherever you feel most comfortable — like in your hometown's local coffee shop — or where you feel most comforted — like snuggled up with your loved ones on the couch while marathoning old faves on Netflix. So when you move into a dorm room or your first apartment in a different city, it can be a seriously emotional experience because your true home is suddenly miles away. As excited as you may be about this new chapter, the FOMO can come in waves. What are my besties doing without me? Why is my mom not answering the phone? Since FaceTiming your lifelong besties or booking flights to see your family isn't always possible, there are plenty of comforting products you can buy to help you deal with homesickness whenever that next wave hits.
Depending on who or what you're missing, a candle that transports you back to your hometown, a stress-relieving cup of tea, or even a nostalgic dad hat can make a huge difference. That's why Elite Daily's team of editors and writers curated a list of creative and helpful items to combat homesickness. Missing your friends, hometown, family, and pets won't completely go away — but you can make it a little easier.