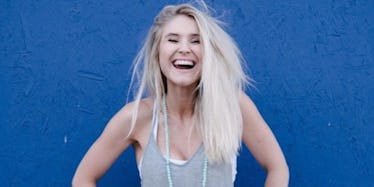 Here's Why This Personal Trainer Doesn't Want To Be Your "Fitspiration" Anymore
If you've ever browsed through the fitness tags on Instagram, you've probably come across the #fitspiration trend.
Fitspiration, a combination of the words "fitness" and "inspiration," is a simple concept meant to motivate you to get off the couch and into the gym.
But TBH, the trendy message -- the hashtag of which is usually tacked onto a photo of a too-perfect fitness model -- is often anything but inspiring.
Sophie Gray, personal trainer and creator of WayOfGay, used to be part of the highly popular #fitspo fad.
But she doesn't sugarcoat a damn thing when she tells Elite Daily why she's beyond over these unrealistic ideals:
Our culture has really taught us, especially women, that we need to fit into some kind of ideal to be respected, wanted and accepted. But, that's a f*cking lie.
Gray tells it like it is; she wants you to accept the sh*t out of yourself for exactly who you are, rather than strive to achieve the unachievable and the unrealistic.
Though she used to identify herself as a fitness blogger, Gray says she now focuses on communicating messages of self-acceptance, self-care, and self-love to her hundreds of thousands of Instagram followers.
Which means her social profiles have undergone a pretty incredible transformation to include only inspiring, uplifting photos of her exciting life, rather than the #fitspo pics she used to regularly post.
But what exactly prompted Gray to make such a drastic shift in her online persona?
A few days ago, a "fitspiration" account (@gramousfitness) posted one of her old photos with this caption: "Nothing tastes as good as being fit feels."
Gray immediately fired back, commenting on the post,
Actually, from experience and seeing as I'm the person in this photo… I know that pizza and cookies taste way better.
Girl, preach.
Since then, the account has removed the photo, but Gray reposted it to her account, adding scribbles over her body to promote a better, clearer message of self-love and body-positivity:
Having a six-pack and thigh gap doesn't make you happy. Pizza and cookies are f*cking delicious. And I'm sick of women being told they have to be anything other than themselves to be happy.
Now, she's making it clear to the online community that she's finished with #fitspo pics and ready to inspire her followers instead with smiling selfies and vibrant lifestyle snaps.
Gray tells Elite Daily she wants her followers to see a glowing girl living her fullest life when they click on her Instagram profile.
Her goal is to make it tremendously clear that your self-worth shouldn't be based on how you look in a sports bra.
She now encourages others to share her post with the hashtag "#f*ckyourfitspo" as a way to tackle the unhealthy "fitspiration" trend that plagues the account that posted her photo, and many others alike.
She adds,
I just truly want women to know that they don't need to do anything to be deserving of their own love and acceptance. Self-care through fitness and nutrition are wonderful, but not necessary to be a person who deserves acceptance.
Gray has also started offering online coaching that aims to inspire you to fall in love with your body.
She tells Elite Daily,
[Coaching is] going great! For me personally, it feels so much better focusing on deep, life-changing work. Again, it's not saying fitness and nutrition isn't important, but I love diving deep into self and working through the baggage we carry.
Gray's perspective is truly a breath of fresh air, particularly in the midst of countless Instagram accounts devoted to setting unrealistic standards for women when it comes to how their bodies should look.
While she may not know you personally, Gray says she does want you to know you are deserving of all the self-acceptance in the world:
You're deserving of your own love simply because you showed up to life and exist.
Amen, girl.