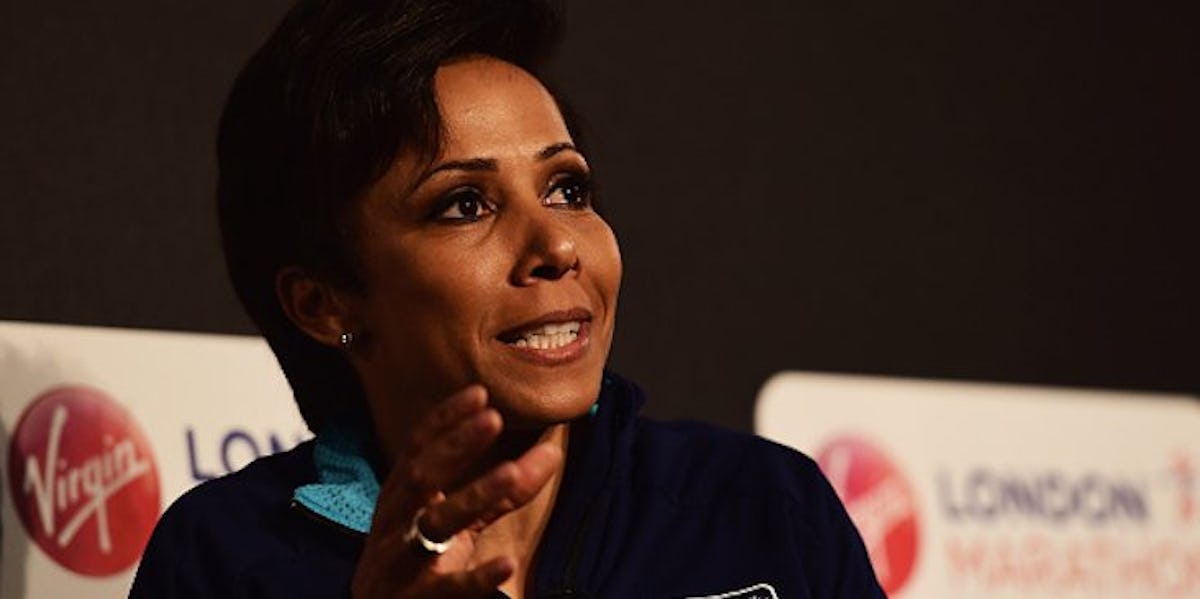 This Olympic Gold Medalist Got Real About Self-Harm And We're So Here For It
Getty Images/Alex Broadway/Stringer
Our society recognizes athletes as strong individuals who physically test themselves every day for the love of the game, but it's easy to forget that physical strength and mental strength are two very different things. And while a person's body may be strong, you never really know what they're going through mentally. Olympic athlete Kelly Holmes talked about self-harm and mental health at a Health and Wellbeing Live event in the UK on Sunday, Sept. 24. She bravely opened up to BBC reporters, telling the outlet she used to cut herself as she struggled through several injuries that kept her from her passion before winning her first gold medal. It's not uncommon for inspirational players like Holmes -- who invest their heart, soul, and time into their work -- to feel lost and frustrated when an injury postpones or even ends their career. But her story is an example to all female athletes, and anyone else who suffers from self-harm, that recovery is possible.
First of all, it's important to establish the seriousness of injuries when it comes to professional sports. So, let's say you're walking down the street, you trip, and break your ankle. Sure, this can make it more difficult to get around, and depending on your line of work, you may lose a few weeks of productivity, but eventually your bones will heal, and all will go back to normal.
For athletes, on the other hand, no injury is ever truly minor. One after another, they all add up, and no matter if you are an athlete or not, your body can only handle so much wear and tear. Eventually, an athlete can get to a point where her body no longer performs the way she needs it to, potentially ending both her career and her passion.
With that in mind, mental health issues and self-harm are not uncommon in professional and recreational sports.
USA Today College reports that, according to a 2016 survey administered to Division I athletes, 28 percent of female and 18 percent of male athletes were experiencing levels of depression.
Victoria Garrick, a University of Southern California women's volleyball player, told USA Today College,
When it comes to college athletes, there's a fear of admitting a weakness because you don't want to be viewed as weak. People feel stigmatized. They don't want to come forward because they feel they're not allowed to show weakness.
Professional athletes experience a different kind of sting when it comes to mental health issues, because the sport is no longer an extracurricular, but a career. For example, former national level judoka Declan Williams told Ryerson University's student newspaper The Eyeopener that, despite countless head injuries during his 10 years competing, he ignored doctor recommendations and skipped hospital visits because he didn't want to hear he shouldn't compete. When competitions started becoming more difficult, however, his mental health took a toll, causing him to have aggressive outbursts to let out his frustrations.
He explained, "At the time, I thought this was normal but looking back, you know hindsight is 20/20 and it wasn't."
Unfortunately, it's common for people struggling with mental health issues to feel hesitant about opening up.
Because of the strong stigma in regards to self-harm and mental health in our society, as unfortunate as it is, so many people who suffer often do so in silence -- which makes Kelly Holmes's bravery all the more poignant.
After receiving an outpour of support from fans, Holmes took to Twitter to give thanks and continue the conversation. She wrote,
One thing I need to say though is this is not a new story, it's just that people are opening their ears and listening at last. So many people suffer in silence and we need to cut the crap and stigma around this subject and let people ask for help. Also realize that many people you talk to on a day to day basis could be suffering with anxiety, depression or more, but they don't speak out because they don't want to be judged... I know for sure that there is a light at the end of the dark suffocating tunnel, but we may need help getting there.
According to NHS figures from 2016, incidences of self-harm have increased over the past 10 years, and while this is especially pronounced in young women, mental health disorders are seen in both young women and men. The research shows that self-harm is often a result of social pressures and the need to succeed.
So, what can we do to help?
Above all, we need to de-stigmatize the conversation surrounding mental health and self-harm. It's so, so important to be open to having these conversations, and to offer help to those suffering.
Self-harm is a very real, and very serious expression of mental illness. If you or someone you know is practicing self-harm, seek professional help, and know that recovery is possible and, first and foremost, worth it.