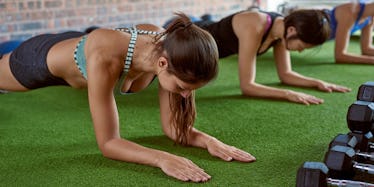 4 NYC Fitness Classes That Will Get You Out Of Your Workout Rut
Daxiao Productions
There's no hiding it: I'm the girl who falls in and out of her fitness habits. I'll be going strong for a hot minute. But then, somehow, I putter off and lose all motivation.
It's odd because I never lose my memories of why I love working out so much, or how amazing I feel at my peak. I simply make excuses about how I could better use my time.
So, despite keeping all the pros of working out locked in, the actual drive to throw on a pair of leggings sits on the back burner while I'm cooking up some excuse as to why I can't make it for a one-hour sweat sesh. Since my excuses typically veer toward Netflix binges, a love of food or overall laziness (whoops), I've been thinking it's about time to hop back into my routine.
Better yet, I should create a new and improved one.
With that being said, I've taken every opportunity that's come my way in the past few weeks to experiment with the different workout classes the city offers, in order to get myself out of this solo workout rut. Some, I've loved. Some weren't quite up my alley. But either way, my experiences in each have allowed me to begin to conjure up a plan for my next self-challenge.
If you're thinking of doing the same, take a peek at my thoughts regarding a few classes available in the Big Apple, and decide if they might be right for you:
With 25 to 30 minutes of HIIT cardio and 25 to 30 minutes of strength training, this low-lit, music-pumping, sweat-dripping workout is one for the books. It can help you burn up to 1,000 calories per class, and the instructors motivate you with great tunes.
It isn't easy, but that's why it works.
2. Boxing
Known to be the preferred workout of Victoria's Secret Angels, an all-around mood booster and the newest class added to my gym, I had to give my jab-hook-cross a try.
All I can say is, no wonder so many people rave about this sport. It starts with a short burst of concentrated cardio, and is then followed by a hard-hitting partner session or one-on-one time with a heavy bag.
This workout provides the perfect outlet to blow off steam while still getting in a good sweat. I've been going two to three times a week since my first session, and I can already see improvement in my form.
My fellow bartender back home in NoVA had always asked me to hit this class with her, but at the time, I was in one of my slacker stages. So, I always put it off.
The other day, I finally had the chance to book a session, and I'm so incredibly glad I did. Ranking as the absolute favorite fitness class I've ever done, this hour-long workout is entirely based on your heart rate. All participants wear monitors that project their personal readings onto multiple screens in front of the class.
The purpose is to get as many minutes in the orange section, which is a zone that is meant to give you more energy, visible toning and extra calorie burn for up to 36 hours after your workout. The ability to see the percentage of the maximum heart rate I was working toward pushed me to train harder and get an overall satisfying burn. I like to think of it as Barry's on steroids, and I will definitely be taking it again.
Strengthen, Lengthen, Tone, y'all. The concept is wonderful. It consists of unique and intense yoga and pilates-like exercises that are geared toward making you stronger and leaner.
However, the actual execution is not so great. I 100 percent think that this is a purely personal reason, seeing as I'm not the most balanced human when it comes to maneuvering between moving platforms. If you're into pilates and have a knack for stability, definitely give this one a try.
But keep in mind that if you're looking for something fast-paced to the beat of bumping tunes, you'd be better off enrolling elsewhere. On the bright side, the studio gives you free gum. So, there's that.
I still have quite a few classes on my list that I want to try (The Fhitting Room, Tone House and Willkommen Deep House Yoga, just to name a few) and if (when?) I do, I will try to remember to write about my experiences.
As for my current state of mind, I'm strongly considering using my corporate gym reimbursement to pay for a solid month of OrangeTheory. The way I see it, I've already spent the money. I'm merely being reimbursed, so it doesn't really feel like I'll be spending more money. (I laugh at my logic, too.) It'd be a killer way to prep for summer, and also, maybe — just maybe — it would be the first step toward regaining my glowing equilibrium.
We shall see.
This post originally appeared on the author's personal blog.