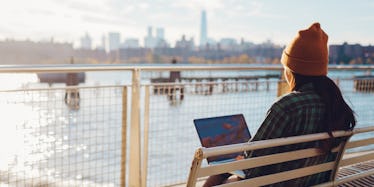 If You Need A Voice Of Reason In Your Life, These 5 YouTubers Have Your Back
Don't you hate it when you're going through something and none of your friends answer the phone?
This is the time when your mind runs the most rampant, plaguing you with the different "what ifs" of your situation.
Lucky for you, in 2017, you are blessed with a little something called YouTube.
YouTube is there for you when you can't unhook yourself from running circles through your mind's hectic maze, for when you feel like you don't want to burden anyone else with your problems.
It's there for you when you simply need soothing that you can't seem to give to yourself.
You don't have to go through those difficult times alone.
Whatever the "it" is that is bearing heavy weight on your heart, take it to the internet.
Virtual friends are still friends. Here are the five best YouTube channels to get you through toughest of times.
‪1. For Loneliness, Ego, Anxiety Or Anything Else
Let me tell you, Leo with ‪Actualized.org has gotten me through some sh*t.
I'm talking heartbreak over a 10-year relationship coming to an end, struggling through accepting my flaws, and the not-so-simple strides to becoming an overall better person type of sh*t.
Leo gifts you with advice that is straight, raw, yet, still easy to digest. His every word hits each chord and leaves you nodding like you're in a church pulpit.
If your goal is to be the highest form of "you" that you can possibly be, watch and listen to this man.
You can thank me later.
‪2. For Movement Relief
‪I will always vouch for Yoga with Adriene.
Her yoga guidance is patient, kind, and possesses the comfort of a mother sooting her newborn child.
Her voice alone is enough to soothe you after a rough night or if you want to get a healthy start to your morning.
Adriene has yoga for literally every occasion, whether you have trouble sleeping at night, or you need some self-care to help you through anxiety.
‪3. For Manifestation
‪Abraham Hicks is perfect for days when your habitual Instagram comparison of everyone's highlight reels are weighing heavy on your competitive nature.
Hicks will tell you just what you need to hear to step out of your self-loathing slump and manifest your reality.
The line that gets me every time?
"Everything is a vibration before it is a manifestation. Everything is vibrational before it can be interpreted through your physical senses."
I know, it made me do a little shimmy in my soul, too.
‪4. For Body Image Insecurities
Beautiful Brown Babydoll is not just a YouTuber.
Her real name is Dr. Nina Ellis Harvey, and she's a school psychologist, a professor at Stephen F. Austin State University, an author, and a motivational speaker.
On days when I've felt my worst about my body image, listening to Dr. Nina speak about this or that was like church.
In a matter of just a few minutes, she'll have you feeling so much better about yourself.
Pick any one of her videos that best applies to whatever you're struggling with, and you'll walk away well-equipped with solutions and motivation on how to handle your wavering emotions the next time they creep up on your happiness.
5. ‪For Sexual Empowerment
Shan Boody is your go-to girl when you want to express yourself as the beautiful and sexually free woman that you are.
She's taboo, she's unconventional, she's easy to listen to, she's educational, she's spunky. She's everything you need in a friend who you'd want to listen to all of your sexual adventures (and/or nightmares).
Her motto: "I own it, they love it."
Whether you've gotten an STD and need someone to talk to other than the nurse at the clinic, or if you've just had the best threesome of your life and feel absolutely exuberant about it, Shan Boody has got you, boo.
Don't even worry about it.