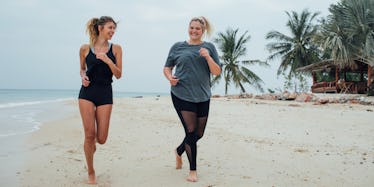 How To Keep The Workout Flow Going Even When You're On Vacation
Every time I go on vacation, part of me wants my only form of movement to be opening my mouth to eat breakfast in bed.
I'm definitely the type of traveler who just wants to sleep late, wander around, lay on the beach, and repeat.
But after two days of lazing about, my body definitely starts feeling stagnant and mopey.
At this point, I know it's best to squeeze in a little workout each day while I'm away, even if it's only for 10 or 15 minutes.
While walking around a new city can get you way over the recommended 10,000 steps, opportunities to exercise are not always readily available at, say, a family reunion.
In which case, you have to get creative.
Usually, there's at least a windowless basement room (which is, hopefully, not as creepy as it sounds) with an elliptical and a 15-pound weight.
I'll pop down for 10 to 20 minutes before the continental breakfast to get some flush in my cheeks.
If there's a pool, despite being a laughable swimmer, I'll find time to flap my limbs around in the water (resistance training? Sure, you can call it that), or swim a lap or two.
If There's No Gym, Your Handy Dandy Smart Phone Is Literally Fitness At Your Fingertips
There are countless simple stretches or quick cardio routines to browse through on the internet and try in your hotel room.
For me, a great one for small spaces is Kundalini yoga, which focuses on the breath, small repetitive movements, and meditation.
It doesn't take much room to do, but it's physically challenging, and I personally always feel awesome at the end.
You can find tutorials all over YouTube.
If You've Gone Tropical, Walking Or Running On The Beach Is A Great Go-To
There's nothing like the burn of a good beach workout.
The sand alone makes everything more difficult, so it won't take long to work up a sweat.
Plus, you can take a dip into the sweet majesty of the sea when you're ready to cool down.
Of course, you should always be sure to stay hydrated and have your zinc oxide slathered on.
If You're Staying With A Friend Or Relative, Tag Along On Their Workout Routine
Ask to be a guest at their local YMCA, or join them on a hike with their dogs.
Even just a stretch and a stroll around their neighborhood will suffice.
And, of course, when all else fails, there's always good ol' jumping jacks.