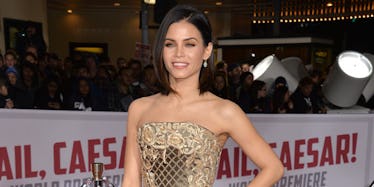 Here's What Jenna Dewan Tatum Eats In A Day To Maintain Her Super Fit Bod
Shutterstock
Between taking care of her 3-year-old daughter, crushing it as a career woman and face-swapping with super hot hubby Channing Tatum, Jenna Dewan Tatum is one busy lady. How does she do it all and still manage to squeeze in a little personal care?
According to Women's Health, her routine is actually quite simple. As Jenna Dewan Tatum explained to the magazine, it's important to take care of yourself before you can help others. Specifically, she said,
You have to be fulfilled in order for everyone else to be fulfilled.
To do that, Tatum highly recommends having a workout routine and healthy, go-to snacks to keep your energy levels up. Here's what she does to stay energized and maintain a toned physique.
Breakfast
For breakfast, Tatum goes with a green smoothie packed with spinach, kale, lemon, apple, banana, pear, cod liver oil and black sesame seeds -- all blended with water. When she drinks this green elixir, she says,
My skin, my hair, my energy -- everything is better.
Lunch
Come lunchtime, Tatum keeps things simple. As she explains,
I'm part Lebanese -- my dad's family -- so I grew up with tabouli. It's my favorite. I like to make things that will keep for a couple of days, and I can just grab and go.
Dinner
For the last meal of the day, it's all about loading up on veggies. Jenna's go-to dinner?
Brown-rice bowls with black beans and roasted veggies -- carrots, purple potatoes, butternut squash, asparagus, zucchini -- dressed with tahini sauce or olive oil, salt and pepper.
Yum!
Workout Tips?
Tatum suggests you stick with what you love, saying,
I grew up dancing and was in a competitive world in which I was taking classes, so I was working out, but I was passionate about what I was doing. I need somebody to motivate me, or a class or a trainer. I like the motivation of having somebody watching over and giving me inspiration.
There's also this simple, booty-busting move you can do any time, anywhere...
Leave it to Jenna Dewan Tatum to have all the best health and fitness tips.
Citations: Steal Jenna Dewan Tatum's Hot-Body Secrets (Women's Health)