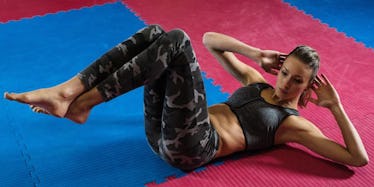 5 Simple Lifestyle Changes That Can Help You Find Time To Work Out In The Morning
If you've always been the type of person to work out in the evening, you know that life can often get in the way of your #GymGoals. Whether it be extra hours at the office, your friends hitting you up for happy hour, or an impromptu Bumble date, cancelled workouts can easily become the norm. But as much as you try to rearrange your routine, you just can't figure out how to work out in the morning.
Honestly, people who work out in the morning used to seem like another species to me. I could barely drag myself out of bed to brew my coffee, let alone blast out some burpees.
But with a few simple lifestyle changes, I slowly bear-crawled my way over to the dark side (literally -- it's still dark when I wake up). And now, I can confidently call myself a morning person -- at least when it comes to exercising, that is.
Trust me, I was in a full-blown relationship with my snooze button when it came to morning workouts. Like, we were knee-deep in the honeymoon phase, and I had no intentions of a divorce anytime soon.
So if I can break up with the snooze button and become a morning person, trust me, you can, too.
Here are five simple lifestyle changes that will finally let you make the switch to morning workouts.
1. Eat Right At Night
The foods you eat the night before your workout can definitely impact how you'll feel by the time you hit the gym the next morning.
Basically, greasy junk food is going to make you feel sluggish AF when it comes time for those #gains.
Having a balanced meal that includes carbs, protein, veggies, and healthy fats for dinner will give you a lot more energy when your alarm goes off in the morning.
2. Get Some More Shut-Eye
This might seem like a no-brainer, but catering to your body's natural circadian rhythm will make waking up for a morning sweat sesh so much easier.
Try to get the recommended seven hours of sleep by switching off your phone during those late hours and giving your body the deep sleep it needs to perform at its best at the gym.
3. Make A Motivation List
Making a list of things that will motivate you to hop out of bed in the morning will help you remember why you're sweating it out at sunrise.
Whether it be the cup of coffee waiting for you when you get home, or the #BootyGains that you'll reap from a consistent a.m. exercise routine, write it all down and stick it on a post-it note right next to your bed.
4. Prepare The Night Before
Setting out your clothes, keys, and shoes the night before will remove any obstacles or excuses you'll be sure to make in the morning.
Sometimes I even sleep in my sports bra and running shorts because I know if I don't, I'll try to be sneaky AF when 6 a.m. rolls around.
5. Reward Yourself For Rising And Grinding
Making yummy pre-workout snacks that will be ready for you before your trip to the weight room can make early rising a lot easier.
Prep your healthy treats as a reward for responding to your wake-up call. These chocolate peanut butter energy bites will make parting with your pillow a lot more doable.