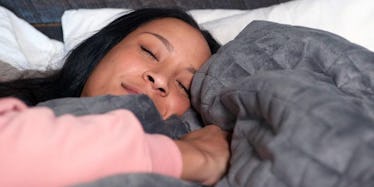 This Blanket Relieves Stress As You Sleep, So Get Ready To Be A Morning Person
Gravity
My bed is my sanctuary; it's my safe place to retreat to at the end of a long, stressful day.
It welcomes me home every day with open, comfy arms, enveloping me in complete and total relaxation.
As relaxed as I am when I'm laying in my bed, I almost always have trouble falling, and staying, asleep through the night.
If you happen to find yourself on that sleepy struggle bus with me, it's high time you learned about the Gravity Blanket.
The Gravity Blanket is a weighted comforter designed to naturally reduce stress and increase relaxation through deep pressure stimulation.
Elite Daily spoke with John Fiorentino, the brain behind the blanket.
Fiorentino describes the product,
The whole idea is here that there's some real science behind letting a weighted object basically put you into a more relaxed state. It's something that's been used in the medical community for awhile now, where it's basically only been looked at as a niche medical product.
Fiorentino is working to bring the concept of the weighted blanket to the masses, and he has the science to back it up.
In one study, 78% of participants found that the use of a weighted blanket helped reduce perceived levels of anxiety.
Another study showed that individuals who used a weighted blanket to sleep reported significantly less distress and clinician-rated anxiety than those who didn't use the blanket.
Interestingly enough, Fiorentino found the inspiration to create the Gravity Blanket while working on a completely different project.
He tells Elite Daily,
I started working with a bunch of sleep scientists on this whole concept of an organic pillow. Then, one of the sleep scientists passively mentioned that there's pretty incredible effects of sleeping with a weighted blanket. I ordered one, and it just didn't look very nice. It didn't feel very comfortable to the touch, but I put it on, and while it usually takes me around 45 minutes to fall asleep, I passed out that night within 10 minutes. It was pretty incredible.
From there, Fiorentino ditched the organic pillow and pursued a project to bring the weighted blanket out of its niche market and into mainstream society.
Testimonials on the Kickstarter page showed people who tried the Gravity Blanket refer to it as "Advil PM for your whole body."
They also say it can bring you "to a whole new level of Netflix and chill."
It's no coincidence the guy behind the Gravity Blanket launched the project when he did, as May is just around the corner, and the month is dedicated to mental health awareness.
Fiorentino says,
Our mission here is to make something where anyone can feel comfortable looking for help. We want the average guy or girl to feel OK and comfortable reaching for something to help with stress or anxiety.
He's already far surpassed his original Kickstarter goal of $21,500. As of today, Fiorentino has raised over $430,000 for the Gravity Blanket.
So, like... can y'all hook a stressed out sista up with one of these miracle blankets, please!?
Citations: Exploring the Safety and Therapeutic Effects of Deep Pressure Stimulation Using a Weighted Blanket (Taylor & Francis Online), Pilot study of a sensory room in an acute inpatient psychiatric unit (Australasian Psychiatry), Gravity: The Weighted Blanket for Sleep, Stress and Anxiety (Kickstarter)