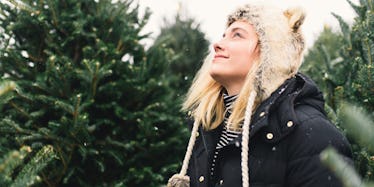 Here's How To Feel Fulfilled If You Don't Want To Celebrate The Holidays
Chelsea Victoria
The holiday season has come upon us full force, and for some, the holidays represent feelings of sadness, anxiety and loneliness.
Depending on who you are, some of these feelings may be very serious and may require help from a professional.
Depression is a real thing that should not be ignored and should be treated, but if you're experiencing holiday blues for less serious (but still valid) reasons — you're far away from your family, you just fought with someone you love or you simply hate Christmas and can't understand why everyone is so darn happy — doing something for yourself may help you out of your funk.
The holidays are definitely a stressful time, but they don't always have to be.
It's important to not get lost in the hustle and bustle of shopping, dinners and parties and place some importance on yourself.
Your happiness should be your first priority because in the end, no one — I repeat, NO ONE — is in charge of your happiness.
So, here are four things you should do for yourself if you're in a holiday funk:
1. Have a date with yourself.
There's no cooler feeling than going out and doing something with the person you love the most: yourself.
Go for a mani-pedi, eat a yummy lunch, get a massage, buy yourself pretty flowers and curl up on the couch with a nice, hot cup of tea and a good book.
Disconnect from the world and reconnect with yourself.
We all need it sometimes, and if you're experiencing overwhelming feelings of having to deal with too many people or too many stresses during this season, taking some alone time might be helpful.
2. Don't freak out.
You have what feels like 17 million people on your Christmas shopping list, you still haven't bought your tickets to go home, everything is expensive, your boss is up your ass and bae is doing everything but cooperating with this very stressful time.
Take a breather. There's no need to cry, yell or flip out on anyone.
We all deal with stress in different ways, but it's important to stay focused to stay sane.
Who cares if you don't finish buying all your Christmas presents?
In fact, should you really be buying Christmas presents for all of these people? Are you doing it to look good, or because you want to partake in this season of giving?
You don't owe anyone anything, and you also don't have to spend all your money to look good in front of people who probably don't really care if you get them a present or not.
Buy things for those who truly matter, if you want to. Christmas isn't just about shopping; it's about spending time with people that we love.
Bae isn't helping? Gently express your feelings, but don't let anxiety and stress rob you of your sanity.
It's not worth it.
Express to your boss that you're feeling overwhelmed. Sometimes they may just listen to you.
3. Avoid anything toxic.
If you broke up with the love of your life prior to the holidays, don't stalk them on social media. Please, don't do it.
Also, don't go to places where you know they'll be. Don't be that person.
It's not healthy for you, and it's not fair to them.
If you fought with a friend, don't throw shade. Talk to them, tell them how you feel and try to maturely solve the problem.
There's no reason to make yourself bitter with toxic people or situations.
4. Invent your own holiday.
You hate Christmas? That's fine.
Be like Frank Costanza and celebrate Festivus, or make up your own holiday. Don't force yourself to "get in the holiday spirit" if you're just not feeling it this year.
There are plenty of other alternative ways to mark this season, and you don't have to celebrate if you don't want to.
And to be honest, pyjamas, Chinese food and chilling with Netflix as a holiday sounds pretty rad, too.