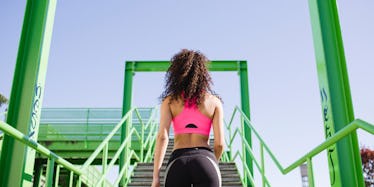 5 Ways Exercise Can Help Your Entire Wedding Planning Process Go Smoother
Wedding season is upon us, and with it comes showers, parties and millions of decisions to make. Who to invite? Where to find the best photographer? Why do flowers cost so much? Can I just grow them in my backyard?
The bride must also manage expectations from her parents, her in-laws and even the five bridesmaids who all like a different dress. It's a crazy time, and it's no wonder there are so many bridezillas out there on the loose.
All kidding aside, most people are busy enough in their daily lives without a wedding to plan on top of everything else. What's a busy bride to do? Add in exercise, another thing to check off the list? Yes, actually.
Exercise makes wedding planning go smoother in ways you wouldn't even think.
Here are just five ways exercise makes every aspect of wedding planning smoother:
1. Exercise can change your body.
Exercise is beneficial for the most obvious reason: It can change your body. The right exercise routine can help you tone up, lighten up, lose fat and look better in your wedding dress. Exercise improves self-esteem, so you'll feel amazing in your wedding dress too.
I wish for every bride to love and appreciate her body, no matter the state of her fitness. However, exercising and enjoying the positive results makes shopping, fittings and alterations more fun and less stressful.
2. You can control your exercise routine and health.
Your exercise routine and your health are things you can control. You don't need to be a control freak, but every bride knows weddings are an exercise in patience.
You wait to hear back from venues for availability. You wait for RSVPs and cross your fingers no one brings two extra guests. After multiple shopping trips with your mom, sister, maid of honor and bridesmaids, you finally find the perfect dress. Then you get to wait months for it to come in.
Many things are outside of your control, which is OK. It's just part of the process. However, it is peaceful to have a sense of control, and knowing you can take charge of your health through a busy time in your life is worth every bit of effort.
3. Exercise helps you release stress.
Speaking of stressful things, exercise helps you release stress. A form of exercise that you enjoy is its own form of meditation. It allows you to dissipate the irritations of the day and do something productive and positive for yourself.
Without a doubt, you will handle stressful situations better when you are exercising regularly and in a positive frame of mind.
4. Exercise takes pressure off him, too.
Exercise take some pressure off him, too. Most of the wedding attention is focused on the bride, but it is a stressful time for him as well.
He also has to decide on his guest list, coordinate with his family and support you through the process. When you feel uncomfortable in your own body, he also feels that discomfort because he just wants you to feel beautiful and loved. After all, that is what you are to him.
5. Exercise helps you enjoy your wedding planning process.
Exercise helps you enjoy your wedding planning, not just survive it. When you look back at the big day, you want to see a lovely time in your life filled with joy and optimism for the future. The last thing you want is to have thrown a big, expensive party you couldn't wait to get through.
No, you want to create an event that is so pretty you don't even need rose-tinted glasses to remember it with. Take care of your body, get your exercise and keep a positive attitude so you enjoy all the steps along the way.