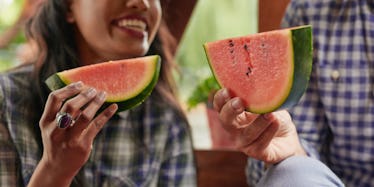 4 Things You Can Eat To Stay Hydrated If You're Bored With Water
Aila Images
It's important to stay hydrated, especially as summer brings warmer weather. In addition to making sure you're drinking enough water and eating healthy, hydrating foods can play an important role in ensuring you're getting the fluids your body needs for optimal health and wellness.
Hydrating snacks help your body absorb moisture, and these five healthy snack recipes will keep you feeling great this summer:
Keep hydrated with this wonderfully delicious dessert idea.
When you're looking for quick and easy dessert recipes that are not only delicious, but also hydrating and healthy, fruit should be at the top of the list. There are many wonderful desserts that can be made with fruit, including these delicious Frozen Fruit Kebabs with drizzled chocolate topping. If you haven't tried frozen fruit, you're in for a special treat.
Pick some of your favorite fruits, such as cantaloupe, blueberries, grapes, strawberries or pineapple. You can use some fruit whole, such as grapes or blueberries, but other fruits should be cut into bite-sized chunks.
Place them all on skewers, and lay the filled skewers on a baking sheet. Freeze for several hours, then remove and drizzle with melted dark chocolate. Eat immediately, or store in the freezer for a quick and easy dessert that is not only incredibly delicious, but also loaded with hydrating benefits.
Add greens for healthy summer recipes.
Greens are not only healthy, but they are also a delicious, hydrating food that can make an excellent addition to just about any healthy summer recipe.
Greens are low in calories and offer hydrating benefits because many of them are comprised of 90 percent water. For a wonderful summer salad, try this easy spinach salad:
Spinach Salad
8 ounces fresh spinach ½ cup crumbled feta cheese ¼ small red onion, thinly sliced ¼ cup dried cranberries 1 tablespoon sliced almonds, toasted
Dressing
½ cup of your favorite bottled balsamic vinaigrette salad dressing 2 tablespoons orange juice
Preparation
Wash the spinach, and tear into bite-sized pieces. Place in a serving bowl with half of the feta cheese and the onion. Toss to combine.
In a small bowl, combine the salad dressing and orange juice. Pour over the salad, tossing to coat. Sprinkle with the remaining feta cheese, dried cranberries and toasted almonds. Serve immediately. This makes four scrumptious servings.
Fiber is an important part of a healthy diet.
Snacks that are packed with fiber can keep you feeling more satisfied, so you'll be less likely to feel the urge to snack. But, they can also help increase hydration for better health this summer.
An excellent example of a delicious recipe for hydration and fiber includes the use of nuts. After all, feeding fibers can be found in mixed nuts, and nuts offer many important health benefits. Nuts contain healthy fats that your body needs, as well as dietary fiber for a wonderfully satisfying, simple and delicious snack idea.
A great way to incorporate hydrating benefits with the fiber of nuts is to simply combine watermelon chunks with cubed cheese and your favorite nuts or seeds. Top this with mint leaves, and enjoy.
Watermelon not only provides excellent hydrating benefits, but, like nuts, it's also full of dietary fiber. In fact, watermelon is approximately 92 percent water, so it's an excellent hydrating snack with dietary fiber for better digestive health.
Summer heat can quickly cause dehydration, especially during periods of exercise. However, fiber can help regulate water balance because it attracts not only water, but it also gives you the much-needed electrolytes your body needs.
Healthy snacks can also be delicious.
When you're looking for healthy snack recipes, hummus is definitely an excellent choice. It's easy to make and can be used for dipping just about anything you like.
Here's a quick recipe for it:
Hummus
Four garlic cloves, peeled 2 cups canned chickpeas (garbanzos), drained (reserve liquid) 1-1.5 tsp salt 1/3 cup tahini (sesame paste) Two lemons, juiced 2 tablespoons of the reserved liquid from the chickpeas Eight dashes of hot sauce or to taste
Preparation
Mince garlic in your food processor. Add the rest of the ingredients, and process until you get a coarse puree. Serve chilled or at room temperature.
Serve with carrot sticks, sliced cucumber, celery or cherry tomatoes for a healthy and hydrating snack. Enjoy your summer feasting!