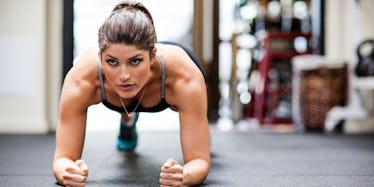 People Are Literally Crawling Like Babies As A New Strength-Building Workout
Some people will do anything to score the body of their dreams. I happen to be one of those people.
Over the years, I've basically tried every fitness fad on the face of the planet in order to whittle my waistline.
And when it comes to sweating it out at the gym, I've learned weight training is my least favorite thing to do.
If you also happen to be a big baby when it comes to lifting weights, you're in luck.
There's a new fitness trend that lets you ditch those heavy dumbbells for some infant-inspired activities.
Allow me to introduce to you crawling, aka the workout you never knew you needed.
Yes, you read that correctly. This baby-approved fitness trend isn't some sort of practical joke. People are actually crawling around in the name of exercise.
Crawling is now a legit exercise that adults are actually doing at the gym.
Since I'm not a big fan of smothering myself in germs or looking like a complete idiot, you probably won't find me ditching my spin class for a crawling sesh on the floor anytime soon.
Apparently, dedicating just a few minutes a day to crawling exercises is enough to give you some serious health benefits.
Ten minutes of crawling is apparently all it takes.
These crawling, baby-like movements engage your core and build muscle strength.
In addition to sculpting your stomach and toning your arms, these core-building exercises improve your balance and increase coordination by training your shoulders and hips to work together.
If you ask me, a leisurely crawl across a dirty gym floor sounds a lot easier than suffering through weightlifting.
However, it would take a whole lot of Lysol and Purell to get me down on that gym floor.
Next time you find yourself getting hella bored with your gym routine, you can always try these infantile exercises and ~crawl like nobody's watching~.
Citations: People Are Crawling Around Their Gyms for Exercise (Cosmopolitan)