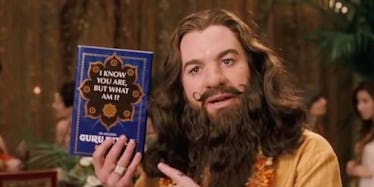 30 People Had To Be Treated For Burns After Attending A Self-Help Seminar
Paramount Pictures
Attending a self-help seminar seems like a pretty great way to boost your motivation and gain some mental focus.
However, a bunch of people recently left a Tony Robbins seminar with a little more than just a clear outlook on life.
Yep, it turns out that at least 30 people were sent to the hospital with minor burns after walking across a bed of hot coals during a seminar led by the self-help guru in Dallas, Texas.
Apparently, the hot coal exercise is included in Robbins's "Unleash the Power Within" seminar as a way to help people get over their fears.
But if you ask me, it seems like this sizzling exercise definitely made a bunch of people's worst fears come true.
So far there have been several different speculations about what turned this routine fire walk into a fiery walk from hell.
Some think the coals may have been too hot because the wrong type of wood was used, while others have proposed that jagged coals in the fire bed ultimately caused people to sustain injuries on the bottoms of their feet.
Regardless of what actually went wrong, it's safe to say that Tony Robbins is definitely going to be feeling the heat from all of the participants that experienced injuries during his seminar.
Check out the video up top for a closer look at this red hot seminar story.
Citations: 30 Burned At Self-Help Seminar (CNN)