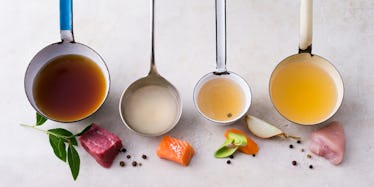 7 Reasons Homemade Broth Is The Best Wellness Trick You've Never Tried
J.R. PHOTOGRAPHY
If broth isn't already on your kitchen radar, it should be. It isn't only for your grandmother's kitchen, and you can give those old broth recipes a serious makeover. Here are seven reasons you should have homemade broth in your kitchen at all times:
1. It makes weight loss easier.
You know the feeling. You've been doing great all morning and early afternoon, but when 3 pm rolls around, your stomach is demanding some attention. Broth is the perfect solution to make your weight loss easier. At its essence, broth is fortified water.
You can't get fewer calories than water. Yet, the rich flavor of a good bone broth, vegetable broth or chicken broth will make you feel like you've just enjoyed a sit-down, three-course meal (sans the bloating, of course).
2. It fits with your fitness goals.
Whether you're cross-training, trimming down or building muscle for an endurance trek across the Sahara, make broth a part of your fitness routine. It will help get you where you need to go.
Broth is nutrient-dense, which means it has more vitamins, nutrients and minerals in every sip. For example, 167 grams of a typical bone broth provides 13 percent of your daily iron intake. Pump up your fitness level with chicken broth to gain an average of 4.8 grams of protein with every cup.
3. Broth is healthy.
Are you craving something warm and comforting to drink? Tea has its own benefits, but every now and then, you could opt for broth instead. In this way, you'll get a different set of nutrients.
Broth gives you the similar, delicious, satisfying flavor of a full meal, but in a nutrient-dense beverage. All those nutrients come from the fresh, whole ingredients you made it with. Broth is essentially a concentrated, vitamin- and mineral-filled cup of nutrition. You can't beat that.
Plus, if you're into clean eating (and who isn't these days?) broth fits right in with the concept of eating unprocessed, whole foods in their most natural state.
4. It's cheap.
Yeah, that's right. We know you like to save money, and that's cool. Homemade bone broth can cost as little as pennies, depending on which kind you make.
Store brands can cost an average of $5 for about 32 ounces, and the organic variety can cost twice that much. Making your own bone, vegetable or chicken broth is a walk in the park.
Seriously, it takes very little effort on your part. I'll even show you how it's done. You barely have to lift a freshly manicured finger.
To make nearly free bone broth, just save a bone from that T-bone you had last night. Vegetable broth can be a simple matter of saving the ends and skins of the veggies you put in your salad yesterday.
Chicken broth is made from the juice of fresh or leftover roasted chicken (with the bones) to boost the flavor. Every time you make chicken, just save the leftovers. Then, you have the makings of a rich, delicious chicken broth.
5. It's easy to make.
To make broth on the stove top, just put your ingredients in a stock pot and add water. Bring it to a boil. Then, turn it down to simmer for at least an hour with the lid on. Strain the liquid through a fine sieve or colander.
My favorite way to make broth, though, is even easier than the stove top method. Just add the ingredients to a 6-quart slow cooker. Season this with salt and pepper. Add water, and turn it on to a low temperature for about six to eight hours. Strain as above.
This slow cooker method allows you to have plenty of time for yourself, and you don't even have to wait around the house. Catch a movie, get a massage, take a nap or set the slow cooker before bedtime.
By the time you get back or wake up in the morning, your broth will be ready to pour into your cup or bowl. Even if you've never cooked before in your entire life, you'll be able to make broth. I promise.
6. Broth broadens your repertoire.
OK, so you've cooked before, just not with broth. But, you won't believe how much more flavorful your dishes will become when you substitute water for broth.
Say you're making rice. Just do what you always do, but use broth instead of water. Your rice will absorb the broth and take on the flavor of it.
Whisking up a batch of curry sauce? When it comes time to add water, use chicken or vegetable broth instead. Yummy.
Making a slow cooker roast? Put an inch or two of bone broth at the bottom of the slow cooker before you add anything else. It will be the best roast you've ever made.
7. It will make you feel better.
We've all been there. Last night, you totally ate too much. Today, you know you have to eat something, but you just want something light and airy. You want something that will make you feel healthy.
Broth is the solution. Relax with a steaming cup of broth. You don't even need a spoon.
Broth has certain inherent restorative properties that make it ideal for sipping when one doesn't feel that great. It's great when you feel like you need to make up for the previous night's indulgences, or when you want to feel like you're at home with Mom. Broth can do for you what no other food can.
Now, you know why you should have homemade broth in your kitchen at all times. From now on, I'm sure it's going to be a staple in your fridge or freezer. You'll have the added bonus of knowing exactly what's in it because you made it yourself.
Sharon Chen is the author of DelishPlan.com, where she helps busy professionals plan easy and delicious home-made meals in less time than they ever thought possible. Save DelishPlan's tried-and-true chicken broth, bone broth and vegetable broth recipes, and use the video tip to store homemade broth efficiently for up to six months, so that you can have delicious broth at your fingertips at all times.