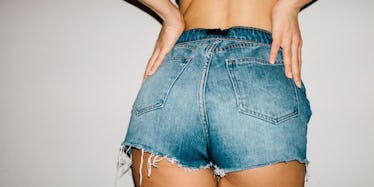 This Doctor's Before-And-After Brazilian Butt Lift Photos Are Strangely Captivating
I don't really get what it is about our obsession with plastic surgery before-and-after photos.
Whatever it is, it's hard to look away from them sometimes. And it's not just plastic surgery procedures that people love watching. Let's not forget the weird obsession with watching this doctor pop pimples. (I can't watch that, though. So please don't update me.)
New York City-based plastic surgeon Dr. Matthew Schulman has been posting before-and-after pictures, procedure shots and snaps of his daily office life on social media. And we can't look away.
The internet is no stranger to butt lifts. There has been a massive amount of speculation over the infamous butt of Kim Kardashian and what plastic surgery she has or hasn't had done.
Some say she's gotten injections, some say she's gone under the knife. Others say she just wears butt pads. I'm pretty sure we can all agree, her ass is anything but average.
I mean, there has to be some kind of magic going on here.
Scrolling through before-and-after pics of Brazilian butt lifts is somewhat of a guilty pleasure, we have to admit.
Dr. Schulman creates these booties by using patients' fat to improve their overall shape. He also does breast augmentations and a few other types of surgeries. You can check them all out on his Instagram, where he also posts shots of the tools he uses. It's actually pretty fascinating.
Check out some of the before-and-after photos below. Warning: the last image in this series is a little more graphic.
You can watch the surgeries live on Dr. Schulman's Snapchat.
This patient had five liters of fat removed. Some of it was replaced in her hips and butt.
This patient had fat removed from her abdomen, back and arms to create her new shape.
What a transformation!
This looks like a whole new body.
Even if you're not in the market for a butt lift, there's no shame in wanting to just stare at these pictures. Sometimes you just need a break from work. We don't judge.
Citations: This Doc Is Posting Pictures and Videos of Brazilian Butt Lifts He Performs Online (Women's Health)