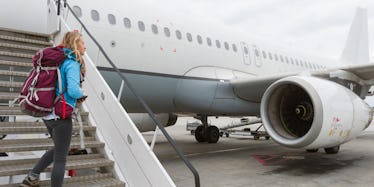 8 Beauty Travel Hacks To Keep Your Skin Clear For Your Entire Vacation
Stocksy
We all suffer from pre-vacation stress while packing, and it's not just from deciding every outfit we need to look Instagram-perfect the whole week. It's also a challenge to figure out how you're ever going to fit all of your necessary beauty and skincare products into one tiny suitcase.
You worry that without all of your skincare products, you'll suffer inevitable breakouts while traveling. The sad reality is there's probably not enough room in your suitcase to pack all of your beloved beauty items, so you'll have to make important decisions about which products are truly needed.
Although your first step onto the plane will make you feel as if three pimples have already popped up, there are plenty of simple beauty hacks to ensure your skin stays clear.
1. Hydrate
From the moment you step onto the plane, the stale cabin air will dry out your skin like you're a fish out of water.
My recommendation is to use the GLAMGLOW "Thirstymud Hydrating Mask" the night before your flight. This gives your skin the extra hydration it needs in the following days of travel and vacation.
2. Prepare ahead of time.
You want to make sure your skin is in good shape days before you even head to the airport. If you're going to a dry climate, exfoliate and apply hydrating masks and moisturizers more than usual in the days leading up to your trip.
Try using Kiehl's "Pure Vitality Skin Renewing Cream," which contains moisture-surging ingredients like Manuka honey and red ginseng root. Manuka honey contains antioxidants and anti-inflammatory properties, which will soothe your skin.
You can also pair it with Kiehl's "Midnight Recovery Concentrate" nighttime oil to give your skin an extra boost of regeneration in the nights before and during your vacation.
3. Pack diligently and conscientiously.
Your skin is going to be under a lot of stress when traveling, and with that stress comes changes in your skin's pH levels, leading to breakouts.
Leave behind any products that could potentially irritate your skin if it becomes sensitive thanks to a change in climate. Any harsh cleansers or peels will definitely irritate sunburned skin, and trust me -- you don't want to know how that feels.
You should pack skin products that are gentle, such as facial cleansers that contain aloe. In addition, bring your favorite mask to remove any impurities your skin is likely to come in contact with.
The Biore charcoal face masks will do the trick to prevent breakouts, and you can easily pick one up at a nearby drugstore.
4. Go barefaced the day of travel.
Wearing makeup on a plane will clog your pores and allow bacteria to collect throughout the duration of your flight.
Consider packing your moisturizer, toner, foundation and mascara in your carry-on, so you can touch up your face right before landing.
5. Stay ahead of travel dryness.
Apply moisturizer before leaving for the airport, and again when you get on the plane. This will allow your skin to maintain its moisture, and prevent it from overproducing oil that will eventually clog your pores.
Bring along a moisture-boosting spray if you're feeling extra cautious.
6. Bring oil blotting cloths.
These cloths are a traveler's skin savior. They're cheap and you can get them at basically any drugstore.
Keep them with you at all times, and if you start to feel oily at any point, simply blot your skin with the cloth to help reduce the buildup of pore-clogging oil.
7. Protect your skin.
Sunscreen is a must, and it's necessary to protect yourself from skin cancer and from skin-damaging UV rays -- and even if you're traveling to a colder climate for a ski trip, the sun can still be dangerous.
Consider bringing a tinted moisturizer containing SPF, such as the Laura Mercier's broad spectrum SPF 20 tinted moisturizer, which is lightweight and still provides some coverage you may need.
8. Drink lots of water.
Hydration can't be stressed enough. It's essential to always have a bottle of water at hand, especially if you're going somewhere warm.
Instead of going for a sugar-filled soda or juice, opt for water instead. Drinking water will not only prevent dehydration, but it will keep your skin hydrated as well, keeping it healthy and clear.