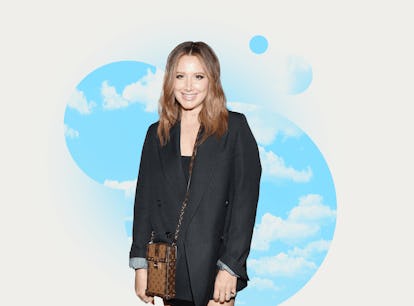 Ashley Tisdale's Wellness Routine Is The Opposite Of Trendy
She's going to relax and renew.
Jahné Spencer/Elite Daily; Getty Images
We may receive a portion of sales if you purchase a product through a link in this article.
You won't find Ashley Tisdale suffering through a cold plunge or chugging chlorophyll water just to try out the latest wellness trend. She might be having fun on TikTok — revisiting some of her most iconic songs like "Fabulous" and "You Are The Music In Me" — but she doesn't think of the algorithm-ruled app as the authority on health and self-care (despite the fact that she's got more than 8 million TikTok followers). "I don't like to look at wellness as a trend, something that's super fun for a moment and then fades. I don't ever want to approach my wellness that way," she tells Elite Daily.
These days, Tisdale, 38, is less enamored with "lifeguards imported from Spain" and more tuned into her own self-care journey. The founder of Frenshe, a community-based wellness brand, is focused on building a wellness routine that's sustainable and reliable — one that's full of quality basics and occasional splurges. "It's really about balance for me. It's not one or the other," she says. One go-to she's always stuck by? Colgate Total, which she calls her "trusted brand."
She's the face of the brand's new Plaque Pro Release formula, which protects teeth against the buildup of plaque bacteria. "At this point, taking care of my teeth is just one of the many foundations that I always do, like washing my face. It's super easy, and you always come out feeling great," Tisdale explains. "Setting yourself up to feel good is so important."
But that's not Tisdale's only wellness staple. Ahead, she shares more details on her daily routine, how she finds time for self-care with a busy schedule, and the surprising skin care hack she swears by.
Elite Daily: You've recently partnered with Colgate Total. Can you talk more about your dental hygiene routine?
Ashley Tisdale: I like to keep up with my oral health care because I'm not the biggest fan of the dentist. Whatever I can do to prevent cavities and gingivitis, I'm in. Colgate has been my trusted brand, and now that they have the Plaque Pro Release, I feel so much more confident and dentist-ready.
ED: Can you walk me through the rest of your morning wellness routine?
AT: I start the morning with washing my face, brushing my teeth, and doing a meditation. Then, I have my coffee, get the baby up, and make her breakfast. When I have the time, I'll get a workout in with my trainer. Afterward, I'm usually off to work.
ED: How do you find time for self-care with such a hectic schedule?
AT: I tend to work a lot, especially if I'm at my home office. I could just stay there all day. So, something my therapist taught me is to take sips of self-care throughout the day, just like we take sips of water because it's really healthy. She taught me that taking little moments throughout your day is so important; it could be literally going outside for a couple minutes in between a Zoom meeting, or doing a quick meditation. Taking little sips when you're overstimulated can really bring down your nervous system, which can help you sleep better.
ED: You've mentioned meditation a couple times. Do you have any tips for getting started with that practice?
AT: I have some meditation apps on my phone — I really like Insight Timer. It's so easy to find any type of meditation on there. Even if you just do a three-minute meditation on the subway before a big meeting, it can really help.
ED: Do you have any mantras you live by?
AT: I've always believed that everything happens for a reason.
ED: With the launch of Frenshe in 2020, self-care, health, and wellness have become huge parts of your personal brand. Was there a specific moment that made you want to enter that space?
AT: A couple years ago, I faced some mental health stuff. I really suffer from anxiety and sometimes depression. I started meeting with so many different experts in the fields of Western and Eastern medicine. The more I learned, the more I felt like I had all of this information that I really just didn't know what to do with. So for me, wellness really was my journey through mental health. Wellness is all-encompassing — it isn't just about how we take care of our bodies with workouts and products, it's also learning more about what's going on inside.
ED: Did you have a specific goal in mind, starting Frenshe?
AT: When I created Frenshe in the beginning of the pandemic, I just wanted to connect with people and talk about what I had learned so far. I wanted to be more open and vulnerable with people who follow me. That was really just the start of it. At that time, we were being taught that wellness is expensive. It seemed like a lifestyle that you can't really afford. I thought, "This is expensive for me. I can't imagine how expensive it'd be for someone who follows me." I wanted the platform to be approachable and attainable, while helping people find products with clean ingredients. It's been a big journey, which obviously led to my product line.
ED: Besides Frenshe's product line, what are the must-have products in your skin care routine?
AT: Christie Kidd is my dermatologist, and I love her Fresh Pads — they're a must-have for me. She taught me the best thing to do: Not dry your face with a towel after washing it. Let it air dry, then use the Fresh Pads. They're amazing and really help with breakouts.
ED: You've been posting fun TikToks to promote Frenshe, referencing some of your most iconic songs. Some even went viral! What was it like, revisiting iconic moments in your career?
AT: I love TikTok trending sounds, and so anytime that I could have fun with them, I will.
ED: Since you reach so many people on TikTok, are there any fitness or wellness trends on the app that you're currently into? Any that you aren't here for?
AT: For me, wellness is a journey, not a trend. I will say that right now, I am really into gut health. I've been on a protocol with that for a while, which has made me feel so much better. People don't realize how much your gut and inflammation can contribute to your mental health. I love learning more about what makes me feel good, how food can trigger anxiety, all of that.
ED: I know your friend group got a lot of publicity recently with big names like Hilary Duff, Meghan Trainor, and Mandy Moore. Have they given you any good self-care tips that you've implemented? Or are you the group's guru?
AT: I don't know if I'm a guru. We kind of all just share what we're going through. I think that's what's so beautiful about it. We are just normal with each other. It's just like any friend group. And there's more people than just the celebrity names — one of the moms in that group is so sweet and will do mental health check-ins. It's awesome to have friends like that.
This interview has been edited and condensed for clarity.