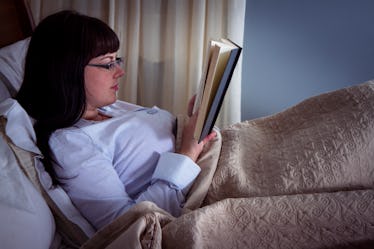 8 Books You Should Read Before Going To Sleep If You Need A Little Bedtime Therapy
Diane Labombarbe/E+/Getty Images
I come from a family of readers, so it was only natural that I'd follow suit, consuming various stories of love, friendship, and thrills by the volume. Books quenched my thirst for knowledge and gave me the opportunity to experience all kinds of lives through the tales of great heroines, damsels in distress, historians, and more. I especially turned to the words of authors like Jane Austen, Sarah Dessen, Walt Whitman, and more, particularly when it was late at night, during times of sadness and internal struggle. Having an archive of books to read before bed can help you set aside stressful thoughts and conflicting emotions, and allow you to lose yourself in another world entirely.
Reading is also a very real form of therapy. The term "bibliotherapy" is defined as the use of books as therapy in the treatment of mental or psychological disorders. Of course, while it is always in your best interest to seek professional help if you're experiencing feelings of depression or struggling with a mental illness, books and other forms of literature can be a powerful form of treatment that can remind you, whatever it is you're going through, you don't have to go through it alone.
The New Yorker reports that the first use of the term "bibliotherapy" can be found in a 1916 issue of The Atlantic Monthly, in which the author comes across a "bibliopathic institute" run by an someone named Bagster, who explained,
A book may be a stimulant or a sedative or an irritant or a soporific. The point is that it must do something to you, and you ought to know what it is. A book may be of the nature of a soothing syrup or it may be of the nature of a mustard plaster. You must read more novels. Not pleasant stories that make you forget yourself. They must be searching, drastic, stinging, relentless novels.
It's easy to lose yourself in fictional worlds unlike your own because you ultimately want to find relief in the pages, but while you read, you're most likely searching for some kind of clarity, too. The following list of novels and self-help books ensure, despite whatever it may be that you're going through, you are never alone and, above anything else, life is one big, exciting story.
The Power of Positive Energy by Tanaaz Chubb, $11, Amazon
When you start to treat yourself as a loved one, rather than as an enemy, when you start to watch what you say to yourself and start supporting yourself, you create a greater sense of joy and happiness.
I've been struggling with anxiety for a few years now, and this is has become a book I cling to when I'm in serious need of positive reinforcement.
Let Tanaaz Chubb guide you on a journey of self-acceptance and self-love in a series of chapters filled with motivational mantras and exercises that instill positive thinking in every aspect of your life, from relationships with others, to conquering internal battles.
What We Talk About When We Talk About Love by Raymond Carver, $9, Amazon
I could hear my heart beating. I could hear everyone's heart. I could hear the human noise we sat there making, not one of us moving, not even when the room went dark.
I hadn't come across Raymond Carver's work until the movie Stuck In Love brought the above quote to my attention, and when I got my hands on this collection of 17 short stories, I ate up every single line.
The story focuses on four friends -- Mel, Terri, Laura, and Nick -- and is split into a series of flashbacks detailing each individual's experiences with love. It explores the nature of romantic love, adoration, the many complexities of matured relationships, and love for possessions.
If you're looking for something with a romantic perspective, look no further.
You Are A Badass: How To Stop Doubting Your Greatness and Start Living An Awesome Life by Jen Sincero, $10, Amazon
You are loved. Massively. Ferociously. Unconditionally. The Universe is totally freaking out about how awesome you are. It's got you wrapped in a warm gorilla hug of adoration. It wants to give you everything you desire. It wants you to be happy. It wants you to see what it sees in you.
There's no rule that says all self-help books have to be corny, cliché, or a bullet-pointed list on how to do life right because you are clearly doing it wrong.
Jen Sincero's You Are A Badass challenges the idea of "someday" by encouraging readers to live their best lives now. The New York Times best-selling author is also a world-traveling success coach with a quirky voice that drops a swear word or two into the copy.
In short, each of the 27 chapters aims to help you understand who you are, why you're on this fabulous planet, and how to change your life for the better with exercises, tidbits of advice, and a ton of humor.
4. If I Stay By Gayle Forman
If I Stay by Gayle Forman, $7, Amazon
And I bet she'll be a stronger person because of what she's lost today. I have a feeling that once you live through something like this, you become a little bit invincible.
Some people are speed readers, while others, such as myself, enjoy taking their sweet time to allow each passage to really resonate before moving on to the next. So while kids were going through the Harry Potter series like they were Kool Aid pouches, it would take me a good three weeks or more to finish one.
That wasn't the case with If I Stay; I finished this book in 24 hours. It was one of the only two books that have brought me to tears. The story follows a young girl named Mia, whose family was in a fatal car crash, a tragedy that leaves her grappling between the decision to stay alive or let herself go.
It sounds morbid by that description, but it really makes you think about life choices and how the decisions we make have a domino effect, touching every person we know and love in some shape or form.
Just Listen by Sarah Dessen, $8, Amazon
There comes a time when the world gets quiet and the only thing left is your own heart. So you'd better learn the sound of it. Otherwise you'll never understand what it's saying.
Growing up a writer, I was lucky enough to have blank sheets of paper and blue ballpoint pens as a therapeutic outlet. For some it's books, knitting, or maybe clay molding; for this book's main character Annabel, it's music.
Sarah Dessen's novels are easy reads with a lot of heart-warming content that explores adolescence, love, and family ties. Just Listen reminds us that we all need a confidant. We all have secrets and feelings that need to be talked out, but if you're looking to set your thoughts aside, you can always be there for the many literary characters with something to say.
The Perks of Being A Wallflower by Stephen Chbosky, $9, Amazon
So, I guess we are who we are for a lot of reasons. And maybe we'll never know most of them. But even if we don't have the power to choose where we come from, we can still choose where we go from there. We can still do things. And we can try to feel okay about them.
Chbosky's story of a high school student named Charlie will make your heart swell. This book will make you feel things you never knew were emotions, and while there will be teary-eyed moments, there will also be passages of clarity and inspiration. You'll read the last page through the eyes of a different person than the one you were when you originally picked up the novel.
If you're a sucker for hard-hitting quotes, this book is an excellent choice.
I'll Give You the Sun by Jandy Nelson, $7, Amazon
'Or maybe a person is just made up of a lot of people,' I say. 'Maybe we're accumulating these new selves all the time." Hauling them in as we make choices, good and bad, as we screw up, step up, lose our minds, find our minds, fall apart, fall in love, as we grieve, grow, retreat from the world, dive into the world, as we make things, as we break things.'
Oftentimes when we're lost in our own heads and emotions, we forget that we can always turn to family. Jandy Nelson's novel goes back and forth between the perspectives of twin brother and sister who lose touch over the years, and who find it necessary to cross paths again.
Some people are meant to be in your story and, rather than fight it, maybe you should let them in.
Mr. Penumbra's 24-Hour Bookstore by Robin Sloan, $9, Amazon
...this is exactly the kind of store that makes you want to buy a book about a teenage wizard. This is the kind of store that makes you want to be a teenage wizard.
If you're looking for a book to restore your faith in books, step into Mr. Penumbra's 24-hour bookstore. Robin Sloan's work harmonizes the fantastical with the technological. Following store clerk Clay Jannon on a serendipitous adventure to solve the mystery of a secret society, this one's for true literature buffs who love the smell of hardcovers and the feel of tethered spines.