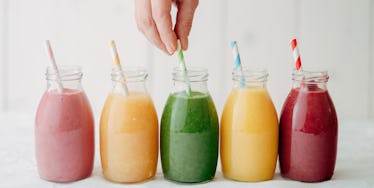 7 Protein Shakes That Are Easy To Make And Don't Taste Like Plants
I used to avoid making any kind of smoothie or protein shakes for the longest time.
Honestly, I was scarred because every time I ventured over to the blender, I would add too much spinach, or too little coconut water, and it would taste like absolute sh*t.
Lately, though, I've hopped back on the post-workout smoothie train -- only this time, with caution.
I'm the kind of person who doesn't want to feel like I'm eating a boring salad when I'm sipping my peanut butter protein shake. And if you claim you love a bland broccoli aftertaste when you're drinking a smoothie, you sit on a throne of lies.
Here are five decadent drinks that will give your body all those healthy nutrients, while still tasting like dessert.
It's not too good to be true, I promise.
1. Strawberry Chia Seed Protein Shake
This one tastes just like a strawberry milkshake, and it only has four ingredients. Nothing turns me off more than a recipe that's long enough to be the damn Declaration of Independence.
Life, liberty, and the pursuit of protein. Who's with me?
2. Wild Blueberry Banana Spinach Power Smoothie
You can't even taste the spinach in this blueberry bad boy, and the added chia seeds give it a punch of protein.
Now that's what I'm talkin' about.
3. Banana Bomb Smoothie
Sometimes you need a little punch of potassium punch after a solid pilates sesh.
This creamy creation is the perfect mix of sweet, nutty, and nutritious.
4. Reds and Greens Smoothie
While it's totally possible to pack in the protein without adding actual protein powder, a scoop or two every now and then can be totally delicious, nourishing, and nutrient-dense -- when you find the right one.
The vanilla protein powder in this baby will satisfy your sweet tooth in the best way possible.
5. Chocolate Banana Coconut Milkshake
The greek yogurt in this recipe provides the protein, while the chocolate coconut combo provides... well, happiness for your soul.
It's basically a match made in heaven.
6. Blueberry Almond Butter Smoothie
TBH, if I could find a way to literally transform into a spoonful of almond butter, I would.
This blueberry blend is as sweet as pie, sans the unwelcome sugar rush.
7. Dark Chocolate Date Protein Shake
Chocolate is always a good idea. Always.
Your body will thank you for this healthy Snickers bar in a jar, especially after a super sweaty gym sesh.