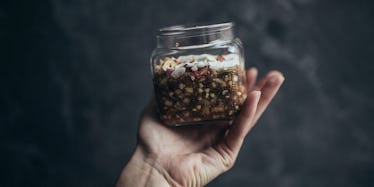 5 Delicious Ways To Sneak Some Coconut Oil Into Your Post-Workout Snacks
In case you didn't already know, coconut oil has the power to change your freaking life.
Between the benefits this stuff can have for your skin and the nourishment it can offer your body, there's pretty much nothing that coconut oil can't do.
So it should come as no surprise at all that coconut oil also happens to be an amazing resource for all your workout needs.
Coconut oil can help with both insulin secretion and immune function and, according to the International Journal of Sport Nutrition and Exercise Metabolism, it has the potential to enhance your overall exercise performance.
It's also an incredible source of medium chain triglycerides, which aid in the process of muscle recovery, along with development and growth.
In order to reap all these deliciously feel-good benefits, here are five post-workout snacks that will get you your coconut oil fix and provide a tasty dose of #gains.
1. Energy Balls
Energy balls are the perfect nutrient-dense snack to eat after a solid sweat sesh, and they're super easy to prepare.
Blair from @balancewithb adds cacao and hazelnut to hers, essentially creating her own healthy spin on a Ferrero Rocher (and if you don't consider yourself borderline addicted to those things, you are wrong).
Add a couple of tablespoons of coconut oil into any Bliss Ball recipe to mend those hard-working muscles.
2. Banana Bread
If you say you don't like banana bread, I'm sorry, but you probably sit on a throne of lies.
This recipe from @ambitiouskitchen includes a healthy serving of coconut oil to keep the bread moist and your body nourished after an intense SoulCycle class.
BRB, preheating the oven.
3. Pancakes
Sneak some coconut oil into @rachlmansfield's protein-packed pancakes for a delectable post-workout treat.
And that chocolate drizzle? Ugh, I'm in heaven.
4. Eggs
If the thought of baking makes you cringe, no need to worry -- one of the easiest ways to pack in that coconut oil punch is to simply fry an egg in it.
@Leefromamerica shows you how it's done with this sweet and savory combo.
Seriously, I'd consider doing an extra set of burpees if I knew this plate was waiting for me afterward (I said "consider," OK?).
5. Hot Cocoa
Get creative with this healthy spin on a traditional hot chocolate.
@Balancewithb keeps it real simple with cacao, cinnamon, and almond milk.
Transform the comforting concoction into a post-pilates drink by adding a scoop of protein powder and a tablespoon of the good stuff -- aka coconut oil.