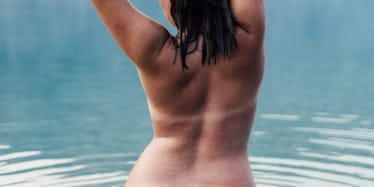 10 Ways To Celebrate Your Naked Body In All Its Glory In Honor Of National Nude Day
In case you didn't know, July 14 is National Nude Day and, unlike the majority of these so-called "national" holidays that seem to appear without reason on your Facebook calendars as of late, this one has a bit of history behind it.
Dating back to the 1970s, originating in New Zealand, the now international holiday was set to celebrate "nudeness, nakedness, being in the nuddy, running free in all your original, raw beauty."
As amazing as this day of recognition is, your body deserves to be celebrated every day, not just on July 14.
Back in college, the first article I ever wrote for my school's newspaper explored different ways to achieve true body positivity.
I rarely, if ever, hold back on the importance of this subject in writing or in conversation, so I bluntly instructed my readers to strip naked in front of their mirror, and admire the masterpiece reflecting back at them.
The response, as I'm sure you can imagine, was mixed. While some agreed this could be a helpful first step to seeing your body for the powerful, gorgeous structure that it is, others took the suggestion as a sexual innuendo.
But the truth is, your naked body is the one permanent home any human being will ever have.
If the only time you're seeing yourself in your purest, most natural form is during a heated, shall we say, performance in the bedroom, you don't know what you're missing.
It's so important to love and appreciate all of your body's unique forms and quirks, and in order to do that, you need to step outside the bedroom.
Step one: Celebrate National Nude Day.
Step two: Repeat every day thereafter.
Here are a few fun activities to get you in the nude.
1. Break A Sweat
While I wouldn't necessarily show up to a yoga studio in nothing but my birthday suit, performing a vinyasa sequence stark nude is simply delicious.
Exercising naked is an excellent way to observe your body's physical strength. Of course, you can do this with free weights as well, though that might be a tad dangerous.
But for a yoga practice, the workouts can be vigorous, sweat-inducing bodyweight sequences, but they can also focus on a more meditative, relaxing flow.
Either can give you a better sense of your body's inner and outer strengths.
2. Pamper Every Part of You
I have a date night with myself once a week.
It takes place in the bathroom, and I treat myself to a luxurious bubble bath, followed by a sheet mask, and painting my toe nails.
Spending the time to lovingly cater to your body by spoiling it with spa treatments is one of the best things you can do.
3. Dance
You dance in your underwear, so why not strip down to nothing in the middle of your jam session?
Grab your trusty hair brush, and groove all over the house. Depending on the song, you might feel silly, or maybe you'll feel incredibly sexy.
Either way, you're sure to have a blast.
4. Cook
Eating isn't just a sensory experience for your taste buds. Go commando in the kitchen, and whip up your favorite dinner or dessert.
Just do yourself a favor and avoid any open flames. You don't need to be the leading story on your local news station tonight.
5. Body Paint
If you do this with a partner, things can get real creative (and maybe even steamy) real fast.
It's still fun solo, but allow yourself to paint outside the lines. Don't be afraid to get messy (translation: Forget the brush, and use your body parts to make one hell of a masterpiece).
6. Sunbathe
While honeymooning in Hawaii, my husband and I stumbled across a nude beach.
I saw more butts than I cared to, but despite my own insecurities, I was impressed by how many people felt confident enough to show off every part of themselves so publicly.
Find a nude beach near you, or camp out on a beach towel in your own backyard. Feeling every inch of skin soak up the warm rays is invigorating and seriously soothing.
Just remember to apply sunscreen all over, and liberally, at that.
7. Go Skinny Dipping
Maybe it's the publicity of it all, but there's something so sexy about skinny dipping, even when done solo.
Start out in your sexiest bikini, and toss that sucker to the side once you're comfy under the current.
You'll feel cool in all the right places.
8. Run A Nude Marathon
For the daring darlings who can let it all hang out without a care, here's a real adrenaline thrill for you.
Nude races are an actual thing, so you can show off your competitive nature in its absolute truest form.
9. Press Snooze
When you lay naked in your bed, your body has a chance to fully experience just how good it feels to be pressed against silky sheets, or the warmth of cotton comforters engulfing your entire body.
Pass on the PJs for a good night's sleep like never before.
10. Admire Yourself In The Mirror
The simplest thing you can do for your body is to love it unconditionally, and that means accepting its imperfections and ailments both inside and out.
To celebrate your body today, and every day, strip down to just you, and give yourself the once-over in the mirror, listing the parts you love and appreciate.
Do this every day for as little or as long as you'd like, and take notice of just how confident you start to feel in the skin you're in.