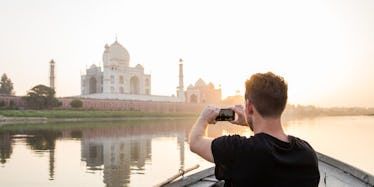 5 Places To Travel To When You Don't Know WTF You're Doing Next In Life
Jovo Jovanovic
Do you remember that kid in your class who was born to be an actor or sportsperson? Or ready-made to work for their family's business?
Did you have teachers telling you that by 10th grade, you needed to know what you wanted to do with your life?
If your path wasn't as clear as your peers, if you didn't — and still don't — have a single clue what you're going to do next in your life, I have a simple, yet solid answer for you.
Give yourself time away to get inspired, to open your eyes to opportunities.
Get off your keister and travel to these five places:
1. Thailand
The flight to Southeast Asia may be long, but once you step off that plane and allow yourself to be soaked up in its incredible aura, you won't want to look back.
This country has everything at a fraction of the price you are used to at home, and there are stunning beaches galore, especially on islands such as Koh Tao and Koh Phi Phi.
The food is luscious and plentiful. The weather is mostly perfect, and there are blue skies and starry nights during dry season, ideal for chilling.
But even in rainy season, there is so much exploration to be had. With waterfalls, rainforests, ancient nature trails, raw culture, a bustling night life and city sky bars, Thailand has it all.
2. Uruguay
Stuck between a rock and a hard place (Brazil and Argentina), Uruguay has been a haven for many traveling through South America in recent times.
It shares many of the aspects of South American lifestyle, with its Gaucho culture and Neoclassical architecture.
Along the Atlantic Coast, you will find dazzling beaches in full swing. Throughout the year, you will no doubt be caught up in its many cultural festivals and rodeos, such as the Fiesta De La Patria Gaucha.
There is so much to offer, nationwide. Head to Punta Del Este and learn how to tango Latin style in a nation not afraid to show off its many moves.
Head to the capital, Montevideo, for its famous European-influenced vibes and the best steaks.
And, best of all, head to the fishing town of Cabo Polonio, rich with wildlife. If you're lucky, you will see a penguin, a sea lion and a whale all in one glance.
3. Czech Republic
This one may surprise you. In fact, many will need to check a world atlas to know exactly where it is.
Right in the heart of Europe, lies this wondrous masterpiece of a nation.
The capital city of Prague, famous for its cobbled streets and fabulous architecture, has so much to offer, especially for those with a camera.
Not only is it a popular destination for those who love cheap and tasty beer, but it is also filled to the brim with amazing modern art, castles, Trdelnik (Warning: when Googling this word, you may drool.) and windy tram-ways.
However, this is just the tip of the iceberg, as the Czech Republic offers hilly, vivid green landscapes and fairytale towns such as Cesky Krumlov.
Any time of the year, this country will hold itself in your heart.
4. Germany
Only a short train journey away from the Czech Republic, you have the mighty Germany, comprised of diverse landscapes, a cosmopolitan lifestyle and a window into a promising future.
Its character, culture and strong foundations for ecotourism and sustainable living says it all.
Its rich and natural beauty surrounds you wherever you go. Valleys of vineyards and woodlands and plains of lake land take up much of its landscape.
You can even have the best skiing experiences in the German Alps during winter season.
Lose yourself in the ultra safe and hip city of Berlin, immerse yourself in the quaint towns of the Bavaria and take yourself to Munich for the famous Oktoberfest.
5. India
Are you ready to experience the rawest and most colorful of cultures and the most eclectic and humbling of destinations the world has to offer?
Then get your rupees ready because you are in for one heck of a ride.
India is quite literally the most eye-opening country on earth.
You will be dodging pigs and cows in the roads and marveling at marble palaces simultaneously. You will be breathing in the sweetest aromas and interacting with the warmest and friendliest people.
And there is nothing better than home-cooked family meals from India, prepared for you in local restaurants.
The Taj Mahal in all its glory will wow you, and people jumping into the filthy Ganges River for a spiritual awakening will startle you.
The prices of literally everything will make you realize just how lucky you are, and the yoga retreats will heal the very core of your soul.
Make India your next big adventure, I implore you.
Not knowing what to do next in life may be for personal reasons, or it may be because you are waiting for the right opportunity back in your home nation.
But the best thing to do when the frustration builds and time ticks away is to get out of the bubble you're stuck in and see somewhere new.
Open your eyes to the world that is full of beauty and promise. You may even find what you didn't know you were looking for in one of these places.