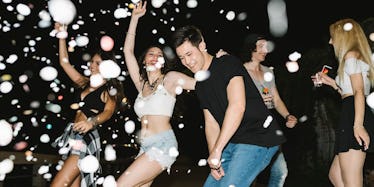 7 Things You Need To Know About Surviving A Vacation In A Party City
Simone Becchetti
Between huge crowds, large amounts of alcohol and constant noise, going to a party city could be a shock to some.
It might be a little overcrowded, but you'll always meet interesting people.
You will find some wild drinks you never thought you could actually mix together, but they will change your life — for the better.
And the noise? There's noise everywhere — you'll be OK.
Obviously you're going to a party city to have a good time, but here are some things to keep in mind while visiting these lit locations:
1. Prepare to join a spot on Team No Sleep.
Don't be surprised if you catch the sunrise while going back to your hotel, hostel or wherever you have your things.
You might catch a nap here and there, but most of the time, you'll be pushing through the day fighting to stay awake.
With a party city, you don't want to miss out on any of the fun. FOMO is real, and it'll make you do extreme things to your body.
Why sleep when you can do that when you get back home? You're here to have a blast — sleeping can wait.
2. People are looking for hookups, not bae.
Some people have this idea of finding a SO while on vacation, but in a party city, it's a little different.
If someone finds you attractive, you have to be careful of his or her true intentions. You might have a pure heart, but that doesn't mean your suitor does.
It can be hard to find a person who genuinely wants to get to know you (although there are a few).
3. You might want to bring earplugs.
Just when you thought your hangover was cured, you still feel the pounding in your head from the bass of music that's still playing.
This gives you the perfect reason to bust out a move in the middle of the street without anyone judging you.
4. There's always a party for you to go to.
You might have left a party, but that doesn't mean you escaped it.
When you're in a party city, the party comes to you... whether you like it or not.
You will find people drinking and dancing in the most unexpected places, but join them because chances are, they're going to invite you.
5. There's plenty of day drinking.
The mentality of "It's five o'clock somewhere" definitely comes in handy.
You can relive your college days and drink beer while soaking up the sun without anyone looking at you in a strange way.
You won't need to hide your can or bottle of alcohol in the brown paper bag. Doing that isn't so sneaky anyway; we all know what's in there.
6. It might not be your kind of party city.
Just because a certain city has a popular reputation for being filled with parties doesn't mean you're going to enjoy it.
Depending on your past experiences, you might find the city not as lit as you thought.
If you're a party expert, some cities might not be as fun as you have experienced before, or you might find the kind of parties it offers not as appealing as you believed.
But that doesn't mean you still can't enjoy yourself; you just might decide not to get as involved in the party aspect of the location.
7. You (believe it or not) can escape the party scene if you need a break.
You can go out and do your own thing in a party city; there's always an alternative.
There's more to a city than just its social scene, and if you do the right research, you can most definitely take day trips to other areas to explore.
Trust me, partying all day and night can get exhausting, so never feel trapped if you need a breather.