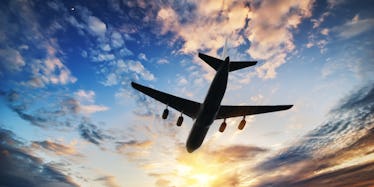 You Can Fly For $39 With This Airline If You Buy Your Plane Tickets Fast Enough
G_O_S / Shutterstock
Is there anything more satisfying than booking that highly-anticipated vacation? The hotel confirmations are in, excursions are at the ready, and you're about to board the plane. The only bummer? Looking at your bank account when all is said and done. Fortunately, JetBlue's Fall Runway Preview Sale offers $39 tickets, so you can satiate your wanderlust without depleting your bank account — but you'll have to act fast.
The airline's sale is taking place on Aug. 1 and 2, ending at 11:59 p.m. ET on Wednesday. If you have a destination in mind and a passport that needs new stamps, get ready to make a move. Time is of the essence, dear travelers, but we don't need to tell you that. The sale will go toward vacation dates between Sept. 6 and Nov. 8, so fall is going to be a perfect time for you to cover some new ground.
For those looking to stay in the United States, major cities such as New York, Boston, and Washington, D.C. are part of the deal. You can head from New York to Boston for $64 or Washington D.C. to Charleston for $59. Have a look at JetBlue's full list of fares and deals, including those one-way $39 tickets from destinations like Long Beach to Reno. If you're in need of an out-of-country getaway, you'll be pleased to see Havana, San Juan, and Barbados on the list as well.
Another important factor to consider is that the sale's blackout dates are Sept. 20-24 and Oct. 9-12, so plan your travels accordingly.
If two days is too much pressure to book a trip, fear not. There are plenty of travel apps out there to help you score the best deal on your next getaway. And, if that's not enough, be happy knowing that you missed the most expensive travel day of the summer. 
Go book those tickets and have a safe trip!