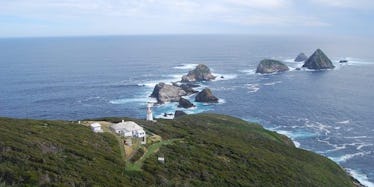 Your Dream About Quitting Your Job And Moving To An Island Just Became Reality
Facebook
At some point, I think we've all sat at our desk and fantasized about quitting our shitty office jobs so we could travel the world.
However, there's one little thing that tends to hold most of us back from following our dreams: Finding a place to live with no income.
Yep, housing can be pretty damn expensive (unless, of course, you figure out a way to live rent-free like that couple who managed to score an expensive New York City apartment without paying a penny).
If you're also looking for a way to beat the rent system while exploring someplace new, you're in luck.
The dreams you have about leaving your job and moving to an island are about to become a reality because the Tasmania Parks and Wildlife Service is offering six months of room and board in a four-bedroom house on Maatsuyker Island for ~free~.
However, there is one tiny catch.
As we all know, there's no such thing as a free meal -- or in this case, a free island villa.
So in order to live in the house, you'll have to agree to be a caretaker for Maatsuyker Island and perform tasks like maintaining the grounds, watering plants and carrying out daily weather observations for the Bureau of Meteorology.
Doesn't sound too bad, right?
But before you hand in your two-week notice and pack your bags, there's one other thing you should know.
This place isn't exactly your ordinary island escape.
Maatsuyker Island is a pretty desolate island located off the coast of Tasmania, so you'll have to be self-sufficient and able to survive without wi-fi for six months. Yikes.
Plus, the only way you can leave the island is by helicopter, so you'll have to stay there for the whole six-month duration, lasting from March to September or September to March.
Apparently, the Tasmania Parks and Wildlife Service is all about the buddy system because their ideal candidates for the position are couples or pairs of individuals.
If you're looking to take the ultimate bae-cation on a beautiful island, you can apply for the caretaker position by visiting the Parks and Wildlife Service's website.
Citations: Here's How You & Your S.O. Could Live On A Beautiful Island For Free (Refinery 29)