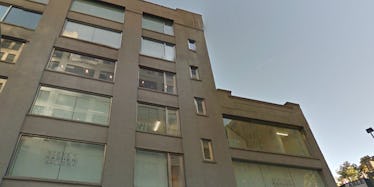 Couple Finds Way You Can Live In Expensive Manhattan Loft Without Paying Rent
Google Earth
Couple Karen Nourse and Zachary Bennett managed to live in an expensive apartment in Manhattan without paying rent for six years.
Some may call them freeloaders. Others may call them heroes.
Let's face it: Rent in Manhattan is ridiculously expensive. If you can figure out a way to get out of paying it, all power (and thousands upon thousands of saved dollars) to ya.
Nourse and Bennett live in a loft in Chelsea on 26th Street. This particular area is filled with art galleries and creative businesses. It's a cool place to be.
The building is also right next to the High Line, which many New Yorkers consider to be the only tourist site worth visiting without actual tourists in tow.
The building is mostly not residential, which is how the couple, who have two children and run a video content company called KZ Films, have been getting away with not paying rent for so long. Aside from their apartment, the building mostly houses galleries and businesses.
The couple was paying $4,754.02, but stop paying that in 2010, according to a lawsuit, the New York Post reported.
So with six years' worth of rent plus electric charges, the landlord says they now owe $410,000.
But Nourse and Bennett are fighting it.
They say that they do not have to pay the hundreds of thousands of dollars in back rent because of the Loft Law.
The Loft Law is supposed to protect New York residents living illegally in commercial and factory buildings.
In 2010, the state changed the Loft Law to cover more people. This is when Nourse and Bennett stopped paying their rent.
Margaret Sandercock, the couple's lawyer, told the Post,
This building does not comply with the Loft Law. The owner is not entitled to collect rent and my clients are not required to pay rent.
Harry Shapiro, the landlord's lawyer, said that the family can stay in the building should they pay their rent. He said,
We really don't want to evict them. We just want them to pay the rent. They're getting all the services but the landlord got zippo.
The creatives fight on.
Citations: Couple renting Chelsea pad hasn't paid rent since 2010 (New York Post)