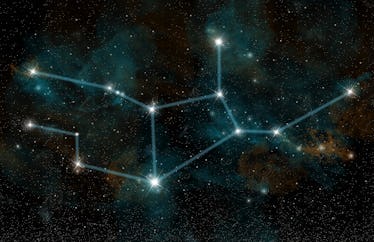 These Virgo Constellation Tattoos Are So Perfectly Delicate
Good luck not getting all of them!
Marc Ward/Stocktrek Images/Stocktrek Images/Getty Images
Virgo season is here, and as you lovely Earth signs celebrate your birthdays, there's one gift you should consider getting yourself: a tattoo. I may not be a pro astrologer, but I think a dainty Virgo constellation tattoo is definitely in the stars for you, even long after Sept. 22. A zodiac constellation tattoo is stylish, not super flashy, and undeniably you. You might as well honor the astrological season during which you entered the universe.
The Virgo constellation is the biggest in the Zodiac and the second largest constellation in the whole night sky. However, don't let that deter you if you're after a smaller tattoo. Tons of Virgo constellation tattoos only include around 12 or 13 stars at most, rather than the more than 9,000 that actually fall into it. And to put it in clear, realistic Virgo terms, I'm not sure you even have enough bodily surface area for that.
The Virgo stars are most often associated with Demeter, the Greek goddess of the harvest, and Astraea, the Greek goddess of justice, purity, and precision, according to Space.com. As a grounded Earth sign, you embody these traits inherently. You are often chasing an ideal and are deeply tied to the material world. And a tattoo of your corresponding constellation is a great way to remind yourself of who you are, what you stand for, and of the world beyond this one.
Given your need for perfection, don't fret. One of these tattoos will definitely speak to you. Even in the realm of Virgo constellation tattoos, you can get something personal and unique that you'll love forever.