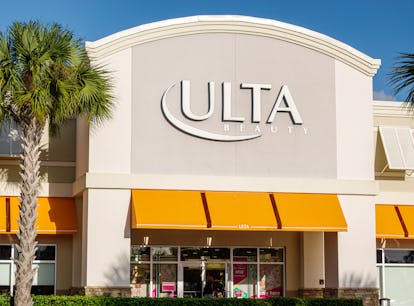 Either I'm In Heaven, Or These Ulta 21 Days Of Beauty Deals Are Just That Good
It's all happening right now.
Jeff Greenberg/Universal Images Group/Getty Images
It's the most glamorous time of the year, as Ulta Beauty's semi-annual 21 Days of Beauty for fall 2021 is back. As always, each day of the sale features a new selection of brands and products that are 50% off. While that's undeniably exciting, it also means there's an overwhelming amount of deals to sift through. It's always best to head into Ulta's 21 Days of Beauty with a plan.
As school is back in session and fall is about to descend on us all, your makeup, skin care, and hair care collections probably need some updating. Between the new seasons introducing different skin concerns and a new color palette about to take over your wardrobe, you have a whole new world of beauty to explore. And I'm no expert, but I think the best time to do that is when beauty products are significantly discounted.
Instead of running around to a ton of different stores to try to get what you need, you can find everything you need on Ulta Beauty's website. But, you'll need to act quickly. Once a daily sale is finished, that's it. Fortunately, 21 days of 50% off sales leaves you ample opportunity to secure some stellar beauty deals. Here are the need-to-know Ulta 21 Days of Beauty details:
Get ready to fill the next three weeks with all the beauty bargains you could ever want.