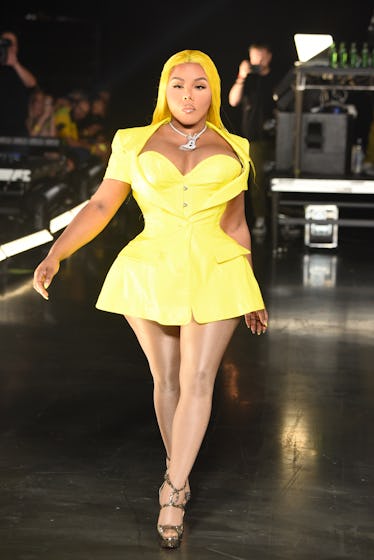 10 Ways To Rock The Neon Trend You're Already Seeing Everywhere This Fall
Albert Urso/Getty Images Entertainment/Getty Images
While summer temperatures may be winding down, the bright, vibrant colors of the season certainly are not — even though we're heading into autumn. In fact, the fall 2018 neon trend is very much alive and well, and a slew of celebs — from the Kardashians, to Jordyn Wood, and even beauty influencers such as Alissa Ashley — are styling the look so well, that it will be hard for their fans and followers alike to not hop on board. So I'd definitely suggest clearing out your closet right now to make room for some new neon clothes!
Back in August, the fashion bible itself, otherwise known as Vogue, predicted that despite fall typically calling for more neutral, earthy hues, that bolder colors would be coming along for the ride in 2018. From Kenzo to Balenciaga, Valentino and more, neon was spotted all over both the men's and women's runways. Fashionista spotted the trend as well back in February — noting that the look was reminiscent of '80s fashion. So whether you're looking to get a little nostalgic with your style as the year comes to a close, or you're just a fan of bright colors, here are a few ways to make a statement while wearing these show-stopping shades.
Go All Out
Rapper Lil' Kim made everyone's head turn as she walked in the VFiles spring 2019 runway show at the Barclays Center in Brooklyn, New York, during New York Fashion Week. The performer, who rose to prominence in the '90s, wore a matching neon yellow blazer and corset as she closed the show, and even had the hair and nails to match.
Make It A Family Affair
Whether or not you have kids, there's nothing quite like making a statement as a group. In honor of football season officially getting started, singer Ciara dressed her family in neon green jerseys and sneakers to cheer on husband Russell Wilson, who plays for the Seattle Seahawks.
Stay Warm
Let's face it, while the bright colors of summer may be coming along, the warm weather certainly isn't. So don't be afraid to throw on a neon jacket, hoodie, or sweater like Jordyn Woods when it starts to get chilly.
Nail It
Nail Sunny has come up with some pretty crazy creations, but this neon acrylic set — inspired by the beautiful sunsets of L.A. — is one I can definitely get behind year round.
Make It Match
If you're someone who likes when all eyes are on you (no shame), then matching neon with neon is definitely the way to go. While those of us on the East Coast likely won't be wearing crop tops and skirts in the next few months, feel free to pair a comfy sweater with your favorite bright pants to create a warmer version of this look.
Bright On The Bottom
If you're still unsure about fully committing to the trend, try wearing a more subtle neon color, like purple, and matching it with a neutral top. This look will still pop without being over-the-top.
Exuberant Eyes
If you're an eyeshadow wiz, take your look to the next level this fall by creating beautifully bold neon lids. You can also pair the color of your choosing to your accessories to add some pizzazz to a neutral outfit.
All About Athletics
It's important to stay active all year, so why not make a fashion statement with your workout gear? And if you've got some extra cash lying around, go ahead and match it with your set of luxury vehicles (LOL I wish).
Hot Hair
Who said bright hair should only be saved with the summer? Singer Rita Ora's neon pink braids are not only cute, but they definitely will catch anyone's attention!
Bright Buzz
Jayden Smith definitely isn't afraid to express himself through his look. And it seems as though he was already on the neon trend in 2017 when he dyed his hair bright pink last October.
Are you ready for your fall wardrobe to make a statement? If so, there's no better time than the present to start brightening up your look for the new season.