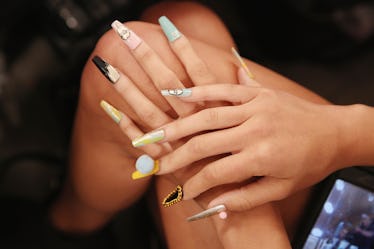 Fair Warning, But "Feet Manicures" Are Now A Thing Apparently
Mireya Acierto/Getty Images Entertainment/Getty Images
When most of us think about the words "feet" and "manicure," naturally, a pedicure is likely what will come to mind. However, an Instagram video from Russian nail salon Nail Sunny has taken the term "feet manicure" to a whole new level. I know, by now, you're probably scratching your head and wondering what is going on, but before I explain to you what a nail artist has created this time around, I want to sincerely apologize in advance for what you're about to read, as it will probably (read: definitely) weird some of you guys out.
Cosmopolitan was the first publication to uncover the unique nail art on Instagram on Aug. 22, which involves creating tiny feet on each fingernail out of acrylic. But these aren't just any old feet, no way. Nail Sunny salon gets so detailed with its latest work of art that it distinctly sculpts out each toe, marks each joint, and files curves into every foot. Don't worry, the artists don't just stop there — they also add red polish to each separate "toenail" and even give one foot a gold anklet to boot.
If that didn't weird you out enough, the salon filmed a tutorial showing the feet "walking," which will probably make anyone who isn't a fan of feet start to itch — myself included.
Understandably, the tutorial was met with mixed reviews from followers, with one commenting, "Just because you can do it doesn't mean you should." Another seemed to joke, "My next set I think!" Others simply laughed or posted vomiting emojis, which sums it all up, really.
Whether you're loving this manicure, or it's really giving you the creeps, you do have to give the team props for creating such an intricate design — because I know I'd never be able to do that! They all definitely have some serious talent, as we've seen time and time again.
This also isn't the first time the Nail Sunny team has broken the internet with its out-of-this-world nail art creations. On Aug. 21, it shared a tutorial of how to create hot dog, ketchup, and mustard nails — using real hot dogs. The nail artists even drizzled actual ketchup all over the model's hands, I guess to give the style an even more realistic touch. Yum?
Don't get Nail Sunny wrong — the brand knows its designs are sometimes odd. However, there's no shame in this game, and the salon even encourages its followers to offer up more outlandish ideas. "If you have some stupid idea, just tell us about that," the salon told Allure in June. "We can make a super-cool design after that."
However, if wacky nail art isn't exactly your thing, the Nail Sunny squad also creates beautiful and subtler manicures for the less adventurous.
Nail Sunny is currently based in Moscow, but recently announced via Instagram that it is planning on opening an additional location in Los Angeles very soon. According to the nail technicians, who currently have more than 1.8 million followers on the 'Gram, about 20 percent of their following comes from the United States, while 22 percent hail from Russia. So, it seems as if making the move makes perfect sense for the talented crew.
Fingers crossed Nail Sunny opens up even more locations stateside soon!