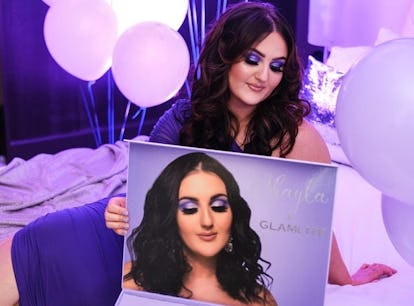 8 Of The Best Mikayla Nogueira Makeup Looks
She's always such a vibe.
Courtesy of Glamlite
When it comes to TikTok makeup gurus, there's one person who sits above and beyond the rest. Mikayla Nogueira shot to fame due to her incredibly honest reviews, glamorous looks, and authenticity on the app. As soon as there's a new beauty hack trending on TikTok, she's always the first person I turn to. Not to mention, her Boston accent had me at hello. Even though she's only been in the spotlight for a short time, Nogueira is constantly turning out the most impressive makeup I've ever seen.
The TikToker's account going viral didn't happen overnight, but it feels like it was pretty close. In just eight months, Nogueira went from zero to 2.8 million followers. As of Dec. 2, 2021, she now stands at 9 million, and I have no doubt she'll keep growing. But TikTok hasn't been the only thing Nogueira's been up to. This past summer, Nogueira launched her first-ever makeup collab with Glamlite, and it almost immediately sold out.
With all of her laurels, let's not forget what first made fans fall in love with Nogueira: her masterful makeup looks. In honor of her never-ending slate of impressive skills, here are Nogueira's best beauty looks to date. Take it from me, one look at these and you'll be googling tutorials to recreate on your own in no time.
It may be time to finally wash your brushes, so you can have all the accuracy you need to recreate Nogueira's stunning makeup looks.