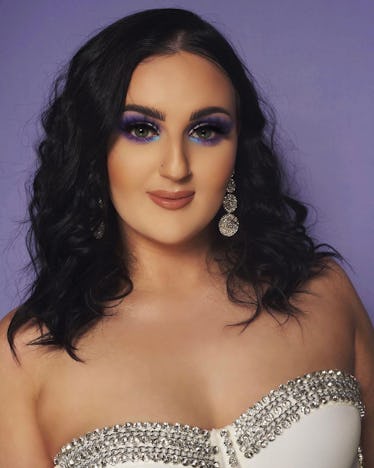 Everything You Need To Know About Mikayla Nogueira's Glamlite Collection
Whatever it is, I want it.
Courtesy of Glamlite on Instagram
-TikTok has quickly become the platform to get your beauty info from, and one of its favorite makeup artists, Mikayla Nogueira, is now dropping a beauty collection. Announced on June 3, Nogueira is teaming up with Glamlite for her first-ever makeup collaboration. As of June 9, the MUA has shared all the information about the collaboration, and fans couldn't be more excited.
"I want people to fall in love with makeup again," Nogueira said in her TikTok announcement. "Makeup is so powerful in the way that it allows for self-expression, and that it's meant for everyone, whether you're a beginner or you're someone that's been around the block and you really know what you're doing." She adds that she loves to teach people about different ways to use makeup and inspire others to step out of their comfort zones.
Glamlite, a company founded by Gisselle Hernandez, was made to be a place for all makeup lovers to feel welcome and accepted. Much like Nogueira who, in a little over a year, now has more than 5 million TikTok followers, the beauty brand knows what it's like to suddenly blow up on the internet. It first went viral back in 2018 over a pizza-inspired eyeshadow palette. Ever since then, the brand has been growing, and in about three years, it's reached mainstream, consistent success. This collab is truly a match made in heaven.
What's In The Mikayla Nogueira x Glamlite Collection?
This collection includes five different products. There's a 30-pan eyeshadow palette that has 17 heavy pigmented shades as well as 13 eyecatching shimmers. Alongside the palette, you can snag the Pressed Poppin' White Champagne Highlighter that is blindingly glowy on all skin tones. Nogueria also created three of her own ideal lip glosses that aren't sticky or scented. They come in nude and two diamond shades. And of course, it wouldn't be a Nogueira collection if it didn't include two dramatic sets of false lashes. Each is vegan and reusable for up to 15 times.
How Much Does The Mikayla Nogueira x Glamlite Collection Cost?
The entire collection is priced between $12 to $42; however, you can buy the entire bundle for $89 or grab the luxury PR box for $99. While the palette is the most expensive individual item at $42, the next highest-priced product is the lip gloss set retailing for $28 with all three of Nogueira's favorite, light glosses. Next is the Pressed White Highlighter which costs $14. Lastly, you can purchase each of her faux lashes for $12. If this is sounding a bit pricey, don't fret. You can use the code MIKAYLA for a discount on all your purchases.
When Will The Mikayla Nogueira x Glamlite Collection Restock?
Unsurprisingly, Nogueria's entire collection sold out incredibly quickly, but restocks are already planned. You can still currently pre-order the Mikayla x Glamlite Palette ($42, Glamlite) and the full collection ($89, Glamlite) to ship out on August 30. While the brand has said that it'll re-release everything for pre-order, those two options are the only things not sold out. However, you can shop the Nogueira x Glamlite collection.
We only include products that have been independently selected by Elite Daily's editorial team. However, we may receive a portion of sales if you purchase a product through a link in this article.
This article was originally published on