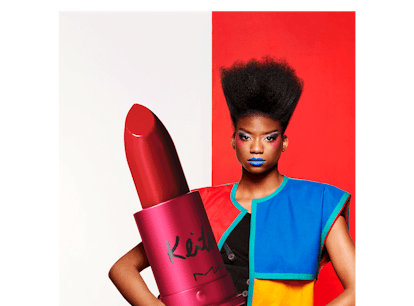 The Latest M·A·C VIVA GLAM x Keith Haring Collection Is The Perfect Holiday Gift That Gives Back
M·A·C Cosmetics
To this day, it's very rare for a beauty brand to donate 100 percent of the selling price from a product or collection to philanthropic causes — and yet, M·A·C Cosmetics has done exactly that for a whopping 27 years now with its VIVA GLAM campaign. For those who don't know, VIVA GLAM was created in 1994 in response to the HIV/AIDS epidemic that they saw impacting their community. The concept was, and still is, groundbreaking but simple: Make a lipstick that raises awareness of the public health crisis, and donate 100 percent of the selling price to organizations that serve those affected by it. M·A·C supports over 1,800 organizations worldwide and helps 19 million people globally every single year.
To celebrate VIVA GLAM's 27th anniversary, M·A·C teamed up with the Keith Haring Foundation to pay homage to the late legendary artist and activist, who personally suffered from HIV/AIDS and used his work to raise awareness of the epidemic — even when it was still so stigmatized. Before passing away due to AIDS-related complications in 1990, Haring broke boundaries within the modern art community with his graffiti work, and helped destigmatize HIV/AIDS by unapologetically speaking out about his own experience. Being that Haring was such a disruptive figure not only in the art world, but within the LGBTQIA+ community as well, M·A·C felt it only made sense to honor his life and valiant efforts with a VIVA GLAM collection — and just in time for the holidays no less.
"As one of the most disruptive beauty campaigns of all time, M·A·C VIVA GLAM set the standard for giving back within the industry thanks to the support of provocative powerhouse talent, our Artists and community," says John Demsey, Chairman of the M·A·C VIVA GLAM Fund and Executive Group President, The Estée Lauder Companies Inc. "For our 27th anniversary, we're thrilled to honour the late iconic artist Keith Haring and carry forward his mission of using his imagery to drive positive change for those most in need of support. He was a true visionary who used his talent for purpose. While he sadly passed during the height of the epidemic, we are so proud that his iconic art and philanthropy lives on through VIVA GLAM."
The limited-edition line features three bold lipsticks inspired by Haring's signature primary color palette: Red Haring, a true crimson; Canal Blue, a striking royal blue; and St. Marks Yellow, a bright, sunny yellow with pearlescent particles throughout. What's especially cool about this VIVA GLAM collection is that the shades were designed so they can be worn alone but also mixed together to create bespoke colors, which allows the wearer to get creative and be an artist in their own right. Each lipstick retails for $19, with 100 percent of the selling price going to organizations supported by the M·A·C's VIVA GLAM Fund. To date, the brand has raised over $500 million globally supporting women and girls, the LGBTQIA+ community and people living with or affected by HIV/AIDS.
The Keith Haring collection couldn't have come at a more perfect time, either. After all, what lipstick lover wouldn't swoon over these high-voltage hues, or the dope packaging inspired by Haring's graffiti pop art? Plus, it's a great holiday gift that gives back, which anyone on your list is bound to appreciate. From the pop art-like packaging and standout shades, to the philanthropic element, M·A·C's VIVA GLAM lipsticks are truly the perfect presents.
On top of the three special-edition shades, every penny from M·A·C's VIVA GLAM I, II, and III lipsticks will also support the LGBTQIA+ community, people living with or affected by HIV/AIDS, and other local organizations fighting for healthy futures and equal rights for all.
SHOP THE COLLECTION