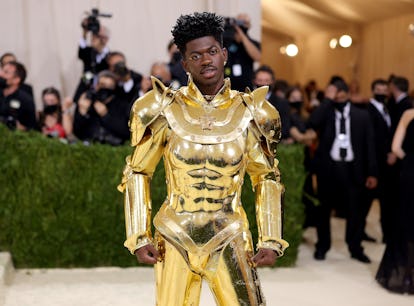 These Iconic Lil Nas X Looks Will Make The *Ideal* Halloween Costumes
Let's go down this rabbit hole, shall we?
John Shearer/WireImage/Getty Images
Lil Nas X is one of the most iconic stars to grace the 21st century. From his Grammy-winning music to his conceptual music videos and always-on-point style, he's a force to be reckoned with, no matter the discipline. Given his history of wearing the most jaw-dropping fits, Lil Nas X's fashion archives make for the perfect Halloween costume inspiration.
The "Industry Baby" rapper is a master of many aesthetics. He's rocked Western à la "Old Town Road," brought warrior to the 2021 Met Gala, and transformed into a darkly feathered angel for the MTV Video Music Awards. He even has a penchant for graphic and exciting makeup. His power knows no bounds.
Just because his looks are bold, bright, and over the top, it doesn't mean you have to break the bank trying to pay homage to Lil Nas X. You can get his editorial, high-fashion styles at a Halloween-acceptable price. And, given how stylish the rapper's tastes are, you'll probably be wearing pieces of your Lil Nas X Halloween costume over and over again well after the spooky holiday has come and gone. So, scope out the below Lil Nas X Halloween costumes, and everyone will be calling you by his name by the end of the night.
We may receive a portion of sales if you purchase a product through a link in this article
This article was originally published on