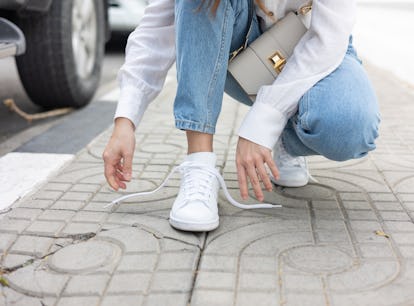 Keep Your Kicks Fresh With These Genius Sneaker-Cleaning Hacks
New shoe smell not included.
Jackyenjoyphotography/Moment/Getty Images
Sneaker culture does not mess around when it comes to kicks. Serious sneakerheads won't even wear their prized pairs out of the house for fear of scuffs and creasing, but if you take care of your shoes, you can give the illusion that your shoes are fresh out of the box. Keeping sneakers in mint condition is no easy feat. Luckily, TikTok has the best hacks for cleaning sneakers so they always look brand new.
Cleaning hacks are great, but you can also avoid ever having to use them by following some sneaker-cleaning ground rules. According to sneaker enthusiast Symphony Clarke, known as TheThriftGuru on TikTok, you can keep even the whitest sneaker looking fresh by keeping three basic rules in mind.
Keep a pair of beater shoes on hand: "Many sneakerheads keep at least three pairs of beater shoes, which are shoes you don't mind getting dirty," says Clarke. "I [only] wear the shoes I love on special occasions. This helps lower my risk of messing up some of my nicer shoes." The next time you're heading to a concert or a packed bar or club, follow Clarke's lead and slip on a pair of shoes you won't regret getting dirty.
Study up on your sneakers' materials: The second step for maintaining an awe-worthy pair of sneakers is understanding shoe fabrication. "Most shoes you purchase are leather-based, [like] your Jordans or Air Force 1's," explains Clarke. "These types of shoes are easier to clean because you can wipe them down. Suede shoes, on the other hand, can be tricky to clean."
Use what you've got at home: Clarke's last tip is to keep calm if you do wind up scuffing up your favorite pair of shoes. Don't panic and don't think you have to shell out major bucks to get your favorite sneakers looking their best. "People think you need some fancy solution to clean your shoes, but honestly, a hot towel and some detergent will get your kicks back straight," says Clarke.
There are tons of ways to keep your favorite kicks looking fresh enough to impress even the most intense sneakerheads and many sneaker-cleaning hacks can be done with products you have around your house right now. Ahead, 10 of the quirkiest, cleverest TikTok sneaker-cleaning hacks that'll give your sneakers a fresh-out-the-box look.