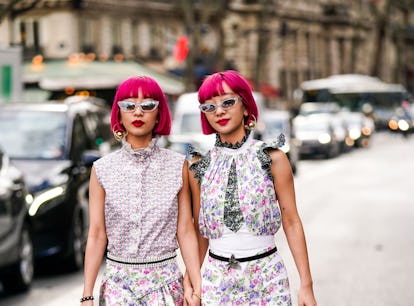 Here's The Color You Should Dye Your Hair This Winter, Based On Your Zodiac Sign
Let's consult the stars for this one.
Edward Berthelot/Getty Images Entertainment/Getty Images
There's nothing like a new season to make you want to do a total aesthetic change. But, as you bring back out your sweaters, pants, and turtlenecks, there's something you still need for your full transformation: a fresh, new hair color for fall and winter. And, when it comes to choosing your new hair shade, you should look no further for inspiration than your zodiac sign, especially if you're feeling a little indecisive.
When it comes to saying goodbye to your sun-kissed highlights from the summer, there are some fall and winter hair colors that are pretty much classics at this point. Think: a shadow-y balayage, deep auburn, or a yummy chocolate brown. But even if you instinctively associate cold weather with going darker, be aware that there are a plethora of fall and winter hair colors popping off this autumn and beyond that are far from the usual tonal palette.
Whether or not you turn to your horoscope for any and all advice or not, you might just be inspired by the perfect new hair color for your zodiac sign. Get ready to save these photos, so you can show your hairstylist the reference they need to give you the fall/winter hair makeover you've been waiting for.